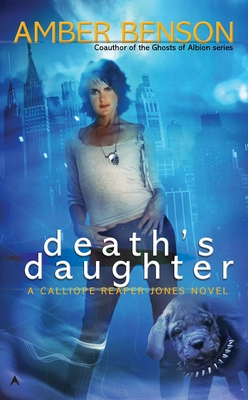 Death's Daughter (A Calliope Reaper-Jones Novel #1) (Paperback)
Ace, 9780441016945, 368pp.
Publication Date: February 24, 2009
* Individual store prices may vary.
Description
Buffy fans will go wild!

SHE WAS TARA ON BUFFY THE VAMPIRE SLAYER.

Now she's the author of Ace's hottest new series— killer novels featuring Calliope Reaper-Jones, who doesn't want to be daddy's little girl anymore...
View our feature on Amber Benson's Death's Daughter.
Calliope Reaper-Jones so just wanted a normal life: buying designer shoes on sale, dating guys from Craig's List, web-surfing for organic dim-sum for her boss...
But when her father—who happens to be Death himself—is kidnapped, and the Devil's Protege embarks on a hostile takeover of the family business, Death, Inc., Callie returns home to assume the CEO mantle— only to discover she must complete three nearly impossible tasks in the realm of the afterlife first.
About the Author
AMBER BENSON co-created, co-wrote, and directed the animated supernatural web-series Ghosts of Albion with Christopher Golden, followed by a series of novels including Witchery and Accursed, and the novella Astray. Benson and Golden also co-authored the novella The Seven Whistlers. As an actress, she has appeared in dozens of roles in feature films, TV movies, and television series, including the fan favorite role of Tara Maclay on three seasons of Buffy the Vampire Slayer. Benson wrote, produced, and directed the feature films Chance and Lovers, Liars, and Lunatics.