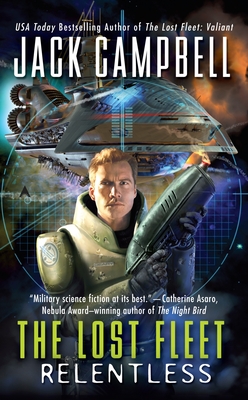 The Lost Fleet (Paperback)
Relentless (The Lost Fleet: Beyond the Frontier #5)
Ace, 9780441017089, 336pp.
Publication Date: April 28, 2009
* Individual store prices may vary.
Description
Captain John "Black Jack" Geary races to save a group of Alliance POWs from certain death in this gripping novel in New York Times bestselling author Jack Campbell's Lost Fleet series.
 
Alliance prisoners of war are being held at a labor camp in the Heradao star system, which also happens to be the location of the majority of the surviving Syndic warships. Determined not to leave any of his people behind, "Black Jack" Geary orders the fleet to strike hard and fast to rescue the POWs with minimal Alliance losses.
 
The raid is successful, but victory is short-lived. Geary discovers that the Syndics plan to ambush the fleet with their powerful reserve flotilla in an attempt to annihilate it once and for all—but he doesn't know where the enemy is located. And as Geary has the fleet jump from one star system to the next, hoping to avoid the inevitable confrontation, saboteurs contribute to the chaos...
About the Author
"Jack Campbell" is the pen name of John G. Hemry, a retired naval officer who graduated from the U.S. Naval Academy in Annapolis before serving with the surface fleet and in a variety of other assignments. He is the New York Times bestselling author of The Lost Fleet series and The Lost Stars series, as well as the Stark's War, Paul Sinclair, and Pillars of Reality series. He lives with his indomitable wife and three children in Maryland.
Praise For The Lost Fleet: Relentless (The Lost Fleet: Beyond the Frontier #5)…
Praise for The Lost Fleet: Relentless

"This exhilarating action-packed outer space military thriller will remind the audience of the battles in Star Wars. Jack is terrific as he realizes his past glory can carry him so far with his demi-god celebrity status, but he is caught in a conundrum of what his fame means to the Alliance and what he has learned while in Syndric Space about the true enemy."—Midwest Book Review

More Praise for Jack Campbell's Lost Fleet series

"Jack Campbell has written the most believable space battles I've ever seen anywhere—David Sherman, coauthor of the Starfist series

"The Lost Fleet is some of the best military science fiction on the shelves today."—SF Site
 
"Fast-paced and enjoyable."—SFRevu

"Will grip the audience...Black Jack is a fascinating hero."—Alternative Worlds