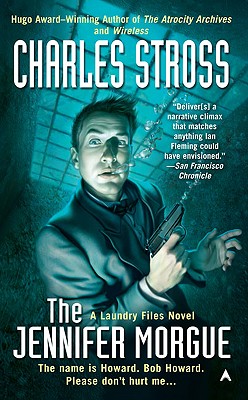 The Jennifer Morgue (A Laundry Files Novel #2) (Mass Market)
Ace, 9780441018147, 416pp.
Publication Date: December 29, 2009
* Individual store prices may vary.
Description
The name is Howard. Bob Howard. Please don't hurt me…

Saving the world from evil is a 24/7 job—No overtime pay included.
           
Ruthless software billionaire Ellis Billington has unearthed a device that will enable him to raise an eldritch horror, codenamed "JENNIFER MORGUE," from the ocean's depth for the purpose of ruling the world.
           
Thwarting his devious plan is a job for the Laundry. And since James Bond doesn't work for the Laundry, it's up to Bob Howard, geekish demonology hacker extraordinaire. His mission is to inveigle his way aboard Billington's yacht and stop him, while fending off the beautiful and deadly Ramona Random, an American agent with her own agenda…
About the Author
Charles Stross, born in 1964, is a full-time science fiction writer and resident of Edinburgh, Scotland. He is the author of seven Hugo-nominated novels, including Accelerando, Neptune's Brood, Saturn's Children and The Laundry Files series, and winner of three Hugo Awards for best novella. Stross has had his work translated into more than twelve languages. He has worked as a pharmacist, software developer, and tech-industry journalist.
Praise For The Jennifer Morgue (A Laundry Files Novel #2)…
"Stross packs this new novel full of hilarious in-jokes and frenetic set pieces."
-San Francisco Chronicle

"One of the most enjoyable novels of the year... Stross steps carefully through all of the archetypes of a classic Bond adventure without ever becoming predictable. The resolution is as perfect as it is unexpected."
-Jonathan Strahan, editor of the annual Best Short Novels anthology series

"Some writers play with archetypes. In The Jennifer Morgue, Charlie Stross makes them sing, dance, and do the dishes for him."
-S. M. Stirling, national bestselling author of The Scourge of God

"The Jennifer Morgue is Stross's most entertaining novel to date...Astonishing."
- Locus

"Alternately chilling and hilarious."
-Publishers Weekly