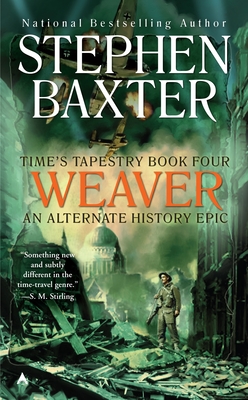 Weaver (Time's Tapestry #4) (Mass Market)
Ace, 9780441018543, 384pp.
Publication Date: March 30, 2010
* Individual store prices may vary.
Description
The concluding volume of the acclaimed Time's Tapestry series.

"This is the climax of one of the most thoughtful and involving series of novels that have brought history alive like no other."—Fantastic Fiction

It is a war that has been fought throughout the centuries—the fate of Rome, the fate of Christendom, the fate of the young country called America—all were at stake down through the ages. Now, in the early days of WWII, as Germany launches a successful invasion of England, nothing less than the fate of the 20th century is to be determined. For the Nazi's have a secret plan, far grander than simply subjugating an enemy.
  
In the middle of that plan, tangled up in the strands of history, are Mary Wooler, an American historian caught in the Blitz; her son Gary, fighting a ruthless invader at civilization's frontier; and Ben Kaman, a Jewish refugee whose dreams place him at the heart of the conspiracy that is threatening the fabric of the tapestry of time…
About the Author
Stephen Baxter, author of the space duology featuring Proxima and Ultima, is the national bestselling author of Ark and Flood. He is a winner of the British Science Fiction Award and the Locus Award. His novel Voyage won the Sidewise Award for the best alternate history novel of the year, and he won the Philip K. Dick Award twice, for The Time Ships and for Vacuum Diagrams. He was also a recipient of the John W. Campbell Award for The Time Ships.
Praise For Weaver (Time's Tapestry #4)…
"Weaver exceeded my expectations…Arguably the strongest book in a series that has systematically improved with every volume."—Strange Horizons
 
"Stephen Baxter's historical thriller series crashes into the 20th century with a terrifying vision of mechanized war and political atrocity unleashed on English soil. This is the climax of one of the most thoughtful and involving series of novels that have brought history alive like no other."—Fantastic Fiction
 
"Good fun, particularly for those already sucked in by the fine historicity of the earlier installments of the series."—SciFiDimensions