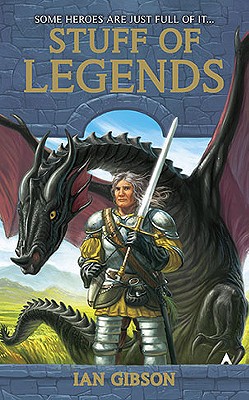 Stuff of Legends (Mass Market Paperbound)
Ace Books, 9780441019304, 293pp.
Publication Date: July 27, 2010
Description
View our feature on Ian Gibson's "Stuff of Legends"
A true legend rescues maidens...pillages temples...and slaughters evil hordes...
But what does he do when all the fun is over?
When an annoyingly eager young man by the name of Eliott, his Elvish guardian, and a bard-for-hire magically drop into the life of former hero Jordan the Red, the aged warrior wants nothing to do with them. He's had enough of battling the world. But Eliott wants an adventure with the legendary, sword-swinging soldier of fortune-and this hero is about to be forced out of retirement.
About the Author
Ian Gibson is a Canadian author with a background in theater. In his day job, he works the box office, where he is inspired by the constant hum of the best contemporary and classical dialogue. He has played "Hamlet," and heard "Beowulf" performed in the original Old English. He lives on Vancouver Island with his wife Rachel. His debut novel, "Stuff of Legends," was a finalist in the 2009 Amazon Breakthrough Novel Award contest.
Praise For Stuff of Legends…
"A winning fantasy, this satirical, rollicking adventure . . . keeps a light, amused and snappy tone, with allusions to popular culture ("The Duke of Yorker" magazine, for instance), fun with names and an especially effective satire of Hollywood talent packaging. A satisfying and involved climax renders a fairy tale ending with an upward lilt, leaving the reader ready for new adventures."
-Publishers Weekly for the Amazon Breakthrough Novel Award

"Laugh-out-loud funny. A send-up of scores of fantasy novels of time past. I'd certainly recommend it."
-Glen Cook

"If Conan the Barbarian met Entourage, you'd get Stuff of Legends. A pleasure to read."
-Jody Lynn Nye, co-author of Myth-Chief

"This debut novel is witty, creative, and completely enjoyable...Full of adventure, clever puns, and satirical characters, fantasy fans will love Gibson's good-natured humor and smart writing. I was impressed with this strong debut."
-Scifichick.com

"If you like the early work of Pratchett, stories by Esther Friesner, or the Goblin books by Jim C. Hines, then Stuff of Legends is a work to add to your shelves. I, for one, am looking forward to more stories from Gibson's pen."
-Graspingforthewind.com
Advertisement