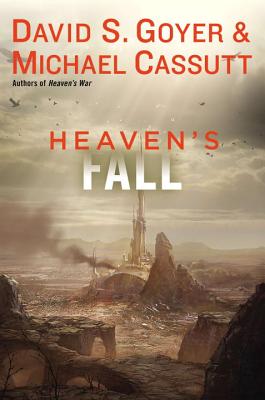 Heaven's Fall (Hardcover)
Ace Books, 9780441020935, 415pp.
Publication Date: August 6, 2013
* Individual store prices may vary.
or
Not Currently Available for Direct Purchase
Description
Mankind's first contact with extraterrestrial life led to an incredible revelation. Their last may lead them to extinction.
Twenty years have passed since the mysterious Near-Earth Object nicknamed Keanu appeared in the night sky and transported an assortment of humans from all over Earth into its interior. There they discovered that Keanu was an immense long-range spaceship--and they were not its only inhabitants. They joined forces with the aliens called the Architects, who had come from a distant galaxy to seek help in fighting the vicious Reivers. And they defeated them--or so they thought.
Now Keanu has reestablished contact with Earth--and discovered that the Reivers have, in fact, taken over the planet, placing most of the population under their dominion. A few scattered pockets of humanity, constantly in danger of being assimilated, have mounted a resistance.
As the Reivers prepare a devastating strike against the Architects, Rachel Stewart, who grew up in Keanu, leads a small band of human survivors in an attempt to infiltrate the massive Reiver fortress in the American West. But their only hope for victory may yet be somewhere inside the NEO.
If the men and women still in Keanu cannot find it, humanity will be finished. And the galaxy will be next.
About the Author
David S. Goyer is a screenwriter, film director, and comic book writer. He has written several screenplays based on numerous comic book series, among them "Ghost Rider: Spirit of Vengeance" and "Batman Begins." He also wrote the screenplay for the Superman reboot "Man of Steel" and the story for "The Dark Knight "and "The Dark Knight Rises." He is the creator of the television series "FlashForward "and "Da Vinci's Demons."

Michael Cassutt is a television producer, screenwriter, and author. His notable TV work includes producing or writing, or both, for "The Outer Limits"; "Eerie, Indiana"; "Beverly Hills, 90210;" and "The Twilight Zone." In addition to his work in television, Cassutt has written more than thirty short stories, predominately in the genres of science fiction and fantasy, and has published novels, including "The Star Country," "Dragon Season," and "Red Moon." Cassutt also contributes nonfiction articles to magazines and is the author of the nonfiction book "Who's Who in Space."
Praise For Heaven's Fall…
Praise for the previous novel in the series, Heaven's War:

"Fans of hard SF delighted in Heaven's Shadow, a solid and engrossing novel in the tradition of Arthur C. Clarke and Robert A. Heinlein…Now Heaven's War takes the story to the next level."—George R. R. Martin, #1 New York Times bestselling author of the A Song of Ice and Fire novels
Advertisement