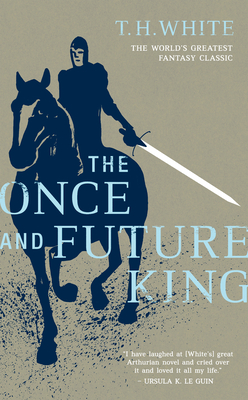 The Once and Future King (Mass Market)
Ace, 9780441627400, 640pp.
Publication Date: July 15, 1987
Other Editions of This Title:
Hardcover (8/25/1958)
Hardcover (10/25/2016)
Paperback (11/1/2011)
Prebound (7/1/1987)
Paperback (10/1/1996)
Paperback (9/20/2013)
MP3 CD (6/14/2016)
Paperback (4/15/1976)
Pre-Recorded Audio Player (9/1/2008)
* Individual store prices may vary.
Description
T. H. White's masterful retelling of the saga of King Arthur is a fantasy classic as legendary as Excalibur and Camelot, and a poignant story of adventure, romance, and magic that has enchanted readers for generations.
 
Once upon a time, a young boy called "Wart" was tutored by a magician named Merlyn in preparation for a future he couldn't possibly imagine. A future in which he would ally himself with the greatest knights, love a legendary queen and unite a country dedicated to chivalrous values. A future that would see him crowned and known for all time as Arthur, King of the Britons.
 
During Arthur's reign, the kingdom of Camelot was founded to cast enlightenment on the Dark Ages, while the knights of the Round Table embarked on many a noble quest. But Merlyn foresaw the treachery that awaited his liege: the forbidden love between Queen Guenever and Lancelot, the wicked plots of Arthur's half-sister Morgause and the hatred she fostered in Mordred that would bring an end to the king's dreams for Britain—and to the king himself.

"[The Once and Future King] mingles wisdom, wonderful, laugh-out-loud humor and deep sorrow—while telling one of the great tales of the Western world."—Guy Gavriel Kay
About the Author
T. H. White is the author of the classic Arthurian fantasy The Once and Future King, among other works.
Praise For The Once and Future King…
"A fierce and damaged man, T. H. White wrote about fierce and damaged people—and children, and animals—with a brilliant, painful innocence that has no equal in literature. He is so good at hurt and shame—how did he also manage to be so funny? I have laughed at his great Arthurian novel and cried over it and loved it all my life."—Ursula K. Le Guin
 
"Certain books offer pleasures so rich and enduring, they become part of what defines us. The Once and Future King is like that for me. It manages—by some miracle—to be about its own time, and a distant, legendary time, and about today. It mingles wisdom, wonderful, laugh-out-loud humor and deep sorrow—while telling one of the great tales of the Western world. I envy the reader coming to it for the first time."—Guy Gavriel Kay
 
"White took hold of the ultimate English epic and recast it in modern literary language, sacrificing none of its grandeur or its strangeness in the process, and adding in all the humor and passion that we expect from a novel. What was once as stiff and two-dimensional as a medieval tapestry becomes rich and real and devastatingly sad."—Lev Grossman
 
"Touching, profound, funny and tragic."—Los Angeles Times
 
"Richly imagined and unfailingly eloquent and entertaining, its appeal is timeless and universal. If a reader reads only one Arthurian tale, let this be it."—Booklist
 
"The Once and Future King is full of insights, scenes and flourishes that are really quite astonishing."—The Guardian (U.K.)