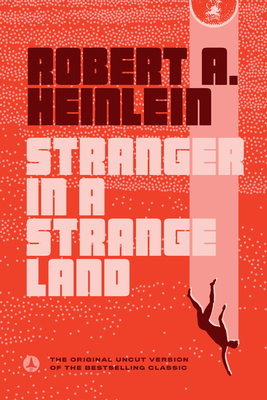 Stranger in a Strange Land
Paperback

* Individual store prices may vary.
Other Editions of This Title:
Digital Audiobook (3/31/1996)
Hardcover (10/25/2016)
Paperback (7/31/2018)
MP3 CD (4/1/1996)
Compact Disc (1/1/2005)
Compact Disc (4/1/1996)
Mass Market (5/15/1987)
Description
The complete, uncut version of Robert A. Heinlein's all-time masterpiece, the brilliant novel that grew from a cult favorite to a bestseller to a science fiction classic.

Raised by Martians on Mars, Valentine Michael Smith is a human who has never seen another member of his species. Sent to Earth, he is a stranger who must learn what it is to be a man. But his own beliefs and his powers far exceed the limits of humankind, and as he teaches them about grokking and water-sharing, he also inspires a transformation that will alter Earth's inhabitants forever...
Praise For Stranger in a Strange Land…
Praise for Robert A. Heinlein and Stranger in a Strange Land

"One of the grand masters of science fiction."—Wall Street Journal

"A brilliant mind-bender...Wonderfully humanizing......Some 60,000 words that were cut from Heinlein's manuscript for economy back in 1961 are at last taking their rightful place in the body of world literature."—Kurt Vonnegut, The New York Times Book Review
 
"Certainly among the most influential...science fiction novel[s] of all time."—The Guardian

"This book was destined to become a bestseller, shaping the sensibilities of a generation...The uncut novel more explicitly exhibits the author's views on human sexuality, women's issues, and geopolitics."—The Boston Globe

"One of the most popular science fiction novels ever published."—Library Journal

Ace, 9780441788385, 528pp.
Publication Date: October 1, 1991
About the Author
Robert Anson Heinlein
was born in Missouri in 1907, and was raised there. He graduated from the U.S. Naval Academy in 1929, but was forced by illness to retire from the Navy in 1934. He settled in California and over the next five years held a variety of jobs while doing post-graduate work in mathematics and physics at the University of California. In 1939 he sold his first science fiction story to
Astounding
magazine and soon devoted himself to the genre.
He was a four-time winner of the Hugo Award for his novels Stranger in a Strange Land (1961), Starship Troopers (1959), Double Star (1956), and The Moon is a Harsh Mistress (1966). His Future History series, incorporating both short stories and novels, was first mapped out in 1941. The series charts the social, political, and technological changes shaping human society from the present through several centuries into the future.
Robert A. Heinlein's books were among the first works of science fiction to reach bestseller status in both hardcover and paperback. He continued to work into his eighties, and his work never ceased to amaze, to entertain, and to generate controversy. By the time he died, in 1988, it was evident that he was one of the formative talents of science fiction: a writer whose unique vision, unflagging energy, and persistence, over the course of five decades, made a great impact on the American mind.