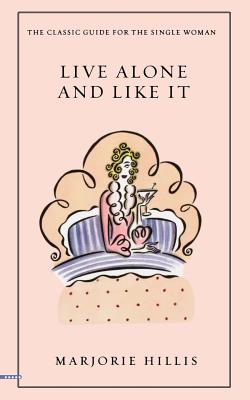 Live Alone and Like It (Paperback)
The Classic Guide for the Single Woman
5 Spot, 9780446178228, 176pp.
Publication Date: June 13, 2008
* Individual store prices may vary.
Description
"Whether you view your one-woman ménage as Doom or Adventure, you need a plan, if you are going to make the best of it."

Thus begins Marjorie Hillis' archly funny, gently prescriptive manifesto for single women. Though it was 1936 when the Vogue editor first shared her wisdom with her fellow singletons, the tome has been passed lovingly through the generations, and is even more apt today than when it was first published. Hillis, a true bon vivant, was sick and tired of hearing single women carping about their living arrangements and lonely lives; this book is her invaluable wake-up call for single women to take control and enjoy their circumstances.

Hillis takes readers through the fundamentals of living alone, including the importance of creating a hospitable environment at home, cultivating hobbies that keep her there ("for no woman can accept an invitation every night without coming to grief"), the question of whether single ladies may entertain men at home (the answer may surprise you!), and many more.

With engaging chapter titles like "A Lady and Her Liquor" and "The Pleasures of a Single Bed," along with a new preface by author Laurie Graff (You Have to Kiss A Lot of Frogs), LIVE ALONE AND LIKE IT is sure to appeal to live-aloners and many other readers alike.
About the Author
Marjorie Hillis (1889-1971) worked for VOGUE for over twenty years, beginning her career as a captions writer for the pattern book and working her way up to assistant editor of the magazine itself. She was one of a growing number of independent, professional women who lived alone by choice. In 1936 she wrote LIVE ALONE AND LIKE IT, the superlative guide for 'bachelor ladies' (who became known as 'live-aloners'). It was an instant bestseller.
Three years after the book's publication, at the age of forty-nine, Ms. Hillis bid a fond farewell to the live-aloners by marrying Mr. T.H. Roulston.