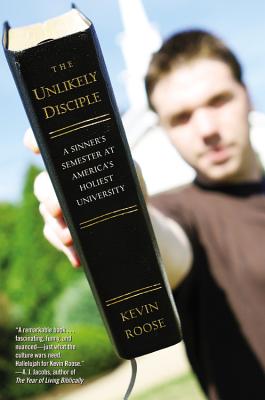 The Unlikely Disciple
A Sinner's Semester at America's Holiest University
Hardcover

* Individual store prices may vary.
Other Editions of This Title:
Digital Audiobook (6/2/2010)
Paperback (6/3/2010)
Description
No drinking.
No smoking.
No cursing.
No dancing.
No R-rated movies.

Kevin Roose wasn't used to rules like these. As a sophomore at Brown University, he spent his days drinking fair-trade coffee, singing in an a cappella group, and fitting right in with Brown's free-spirited, ultra-liberal student body. But when Roose leaves his Ivy League confines to spend a semester at Liberty University, a conservative Baptist school in Lynchburg, Virginia, obedience is no longer optional.

Liberty is the late Reverend Jerry Falwell's "Bible Boot Camp" for young evangelicals, his training ground for the next generation of America's Religious Right. Liberty's ten thousand undergraduates take courses like Evangelism 101, hear from guest speakers like Sean Hannity and Karl Rove, and follow a forty-six-page code of conduct that regulates every aspect of their social lives. Hoping to connect with his evangelical peers, Roose decides to enroll at Liberty as a new transfer student, leaping across the God Divide and chronicling his adventures in this daring report from the front lines of America's culture war.

His journey takes him from an evangelical hip-hop concert to choir practice at Falwell's legendary Thomas Road Baptist Church. He experiments with prayer, participates in a spring break mission trip to Daytona Beach (where he learns to preach the gospel to partying coeds), and pays a visit to Every Man's Battle, an on-campus support group for chronic masturbators. He meets pastors' kids, closet doubters, Christian rebels, and conducts what would be the last print interview of Rev. Falwell's life.

Hilarious and heartwarming, respectful and thought-provoking, THE UNLIKELY DISCIPLE will inspire and entertain believers and nonbelievers alike.
Praise For The Unlikely Disciple: A Sinner's Semester at America's Holiest University…
"Kevin Roose has produced a textured, intelligent, even sympathetic, account of his semester at Liberty University. He eschews caricature and the cheap shot in favor of keen observation and trenchant analysis. THE UNLIKELY DISCIPLE is a book of uncommon wisdom and insight. I recommend it with enthusiasm."
--The Rev. Dr. Randall Balmer, Episcopal Priest and Professor of American Religious History at Barnard College, Columbia University

"Kevin Roose is a delightful writer, and this is a humane book. Read it and I predict you'll have less paranoia, more exposure to 'the other,' and a larger dose of Roose's generous and hopeful faith."
--Brian McLaren, author of A New Kind of Christian, A Generous Orthodoxy, and Everything Must Change

"Keenly observed, funny, and compassionate. Kevin Roose parachutes us into a seldom-glimpsed and little understood pocket of America, then guides us through a story of religion and country more resonant than any of us could have imagined."
--Robert Kurson, New York Times bestselling author of Shadow Divers and Crashing Through

"This is a brilliant book. Absolutely brilliant. Roose's wisdom, humanity, and love kept me going. And I laughed. A lot."
-- Rob Bell, founding pastor of Mars Hill Bible Church and bestselling author of Velvet Elvis and Sex God

"What happens when a Brown undergrad goes undercover at Liberty University? If he's a writer as insightful and open-minded as Kevin Roose, he ends up learning as much about himself as he does about the evangelical Christians he lives with. The Unlikely Disciple provides a funny, compassionate, and revealing look at Jerry Falwell's 'Bible Boot Camp,' and the surprisingly diverse band of true believers who make it their home."
--Tom Perrotta, New York Times bestselling author of Little Children and The Abstinence Teacher

"Hallelujah for Kevin Roose. This is a remarkable book. He takes us on a fascinating, funny, nuanced journey that doesn't condescend or make glib judgments. It's just what the culture wars need. If I didn't already have kids, I'd adopt Kevin."
--A.J. Jacobs, New York Times bestselling author of The Year Of Living Biblically
Grand Central Publishing, 9780446178426, 336pp.
Publication Date: March 1, 2009
About the Author
Kevin Roose is a senior at BrownUniversity, where he studies English literature and writes regular columns for the "Brown Daily Herald." His work has been featured in "Esquire," "SPIN," "mental_floss," and other publications. You can visit his Web site at www.kevinroose.com.
or
Not Currently Available for Direct Purchase