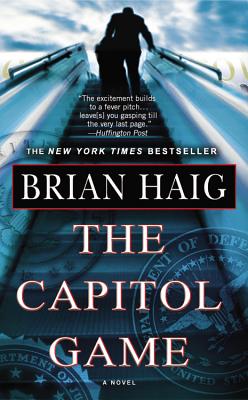 The Capitol Game (Mass Market)
Grand Central Publishing, 9780446195621, 480pp.
Publication Date: August 1, 2011
Other Editions of This Title:
Hardcover, Large Print, Large Print (12/1/2010)
Hardcover (8/1/2010)
Paperback, Large Print, Large Print (8/1/2010)
* Individual store prices may vary.
Description
New York Times bestselling author Brian Haig returns with a riveting new thriller about a man caught between the politics of big government and the corruption of big business.

The Capitol Game

It was the deal of the decade, if not the century. A small, insignificant company on the edge of bankruptcy had discovered an alchemist's dream; a miraculous polymer, that when coated on any vehicle, was the equivalent of 30 inches of steel. With bloody conflicts surging in Iraq and Afghanistan, the polymer promises to save thousands of lives and change the course of both wars.

Jack Wiley, a successful Wall Street banker, believes he has a found a dream come true when he mysteriously learns of this miraculous polymer. His plan: enlist the help of the Capitol Group, one of the country's largest and most powerful corporations in a quick, bloodless takeover of the small company that developed the polymer. It seems like a partnership made in heaven...until the Pentagon's investigative service begins nosing around, and the deal turns into a nightmare. Now, Jack's back is up against the wall and he and the Capitol Group find themselves embroiled in the greatest scandal the government and corporate America have ever seen...
About the Author
BRIAN HAIG is the New York Times bestselling author of six novels featuring JAG attorney Sean Drummond. A former special assistant to the chairman of the Joint Chiefs of Staff, he has also been published in journals ranging from the New York Times to USA Today to Details. He lives in New Jersey with his wife and four children. For more information on the author you can visit his website at www.brianhaig.com.
Praise For The Capitol Game…
"Great fun, and the many fans of Haig's Sean Drummond series will find this an exciting, entertaining, and well-written stand-alone diversion."—Library Journal on The Hunted

"A solid writer of thrillers that mix action and character in roughly equal proportions. Haig's portrayal of Russia around the time of the fall of communism, with its juxtaposition of extreme wealth and abject poverty, will capture the interest of readers who favor thrillers with political overtones. Haig has improved as a writer with every novel, and this one is his most polished. Recommend this one as much for its political and economic insights as for its suspense."—Booklist on The Hunted

"A must-read thriller writer . . . a star."—John Sanford

"A remarkable writer . . . Haig combines a nice mix of wit and wisdom."—Nelson DeMille