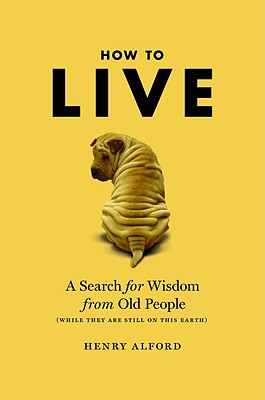 How to Live: A Search for Wisdom from Old People (While They Are Still on This Earth) (Hardcover)
A Search for Wisdom from Old People (While They Are Still on This Earth)
Twelve, 9780446196031, 272pp.
Publication Date: January 1, 2009
* Individual store prices may vary.
or
Not Currently Available for Direct Purchase
Description
In this witty guide for seekers of all ages, author Henry Alford seeks instant enlightenment through conversations with those who have lived long and lived well.


Armed with recent medical evidence that supports the cliche that older people are, indeed, wiser, Alford sets off to interview people over 70--some famous (Phyllis Diller, Harold Bloom, Edward Albee), some accomplished (the world's most-quoted author, a woman who walked across the country at age 89 in support of campaign finance reform), some unusual (a pastor who thinks napping is a form of prayer, a retired aerospace engineer who eats food out of the garbage.) Early on in the process, Alford interviews his 79 year-old mother and step-father, and inadvertently changes the course of their 36 year-long union.


Part family memoir, part Studs Terkel, How To Live considers some unusual sources--deathbed confessions, late-in-life journals--to deliver a highly optimistic look at our dying days. By showing that life after 70 is the fulfillment of, not the end to, life's questions and trials, How to Live delivers that most unexpected punch: it makes you actually *want* to get older.
About the Author
Henry Alford is the author of two acclaimed works of investigative humor--Big Kiss: One Actor's Desperate Attempt to Claw His Way to the Top and Municipal Bondage: One Man's Anxiety-Producing Adventures in the Big City. He has been a regular contributor to the New York Times and Vanity Fair, and a staff writer at Spy. He has also written for The New Yorker, GQ, New York, Details, Harper's Bazaar, Travel & Leisure, the Villiage Voice, and Paris Review.
Praise For How to Live: A Search for Wisdom from Old People (While They Are Still on This Earth)…
"Interviewing such personal heroes as playwright Edward Albee and spiritual guru Ram Dass, [Alford] plunders the vaults of others' experiences, comparing notes and weighing everything against his own worldview. Is wisdom a product of experience? Is it the property of thinkers like Epicurus and Confucius? Does wisdom boil down to simple proverbs? These are the questions that Alford tackles ... with objective curiosity, humorous verve and scholarly diligence... Taking a lighthearted approach, Alford discovers that wisdom is a process rather than a fixed point."
-Kirkus

"One of the Year's best books... In this rich and humorous narrative, Alford focuses on the stories of the elderly as he sets off a prolonged meditation on the question: What is wisdom?"
-Publishers Weekly

"HOW TO LIVE extracts wisdom from an array of American elders... reading Henry's account was like a wonderfully loving and in the end restorative chiropractic adjustment. [A book] for old people and anyone who has ever known an old person (and you will eventually!)."
-Sandra Tsing Loh, author of MOTHER ON FIRE: A True Motherf%#$@ Story About Parenting!

"Not many writers are talented or crazy enough to tackle a subject as vast and slippery as wisdom. Henry Alford is both, and for that I am grateful. Never sappy, always candid, and occasionally exhale-linguini-out-your-nostrils funny, HOW TO LIVE actually lives up to its audacious title. This is a wise and generous book, one that stays with you long after the last page. A must-read for anyone who is old or plans on getting old."
-Eric Weiner, author of THE GEOGRAPHY OF BLISS

"Most of us don't have the time, the inclination, or the method to at least attempt to get wiser as we get older. Henry Alford has brilliantly opened that door. My experience tells me-walk through it!"
-Charles Grodin, author of IF I ONLY KNEW THEN

"The wry and endearing Alford has pulled off writing a book about wisdom that's actually wise."
-Sarah Vowell, author of Assassination Vacation

"Alford is a master of the delightfully hairbrained scheme . . . though containing plenty of laughs, his new book, HOW TO LIVE . . . is an earnest attempt to learn life lessons, especially from the elderly."
-Raleigh News and Observer

"Illuminating . . . a book that looks into the hearts, minds and souls of some of those who've reached an age where insight and know-how pretty much come with the bus pass. Oh, that's not to say all oldsters are wise, mind you, but it is evident that more than a few fogies have something to offer . . . The book also happens to be breezy but not vapid, conversational but not chatty, and informed but not pedantic; in other words, it reads like it was written by someone who spends most of his time writing for some of America's best publications."
-Miami Sun-Post

"Genial, self-deprecating, consistently witty and entertaining facilitator and narrator . . . The author artfully threads his personal story through the narrative."
-Denver Post

"While Alford, true to his pedigree, draws out the humorous side of his subjects, what is revealed in "How to Live" is sometimes audacious and sometimes just odd . . . Time spent reading "How to Live" will not be regretted by those of any age. The book succeeds both as an accessible survey of wisdom and the personal journey of a midlife man who, like many of us, is trying to see the road ahead with the assistance of the rearview mirror of those who precede him. The book's excesses, including more aphorisms on wisdom than one could possibly absorb, and a few chapters that go astray thematically, are more than forgiven on a journey that transmits so many practical insights and -- dare I say it -- wisdom."
-LA Times

"Alford has a powerful, personal story to tell, all kidding aside."
-New York Times Review of Books
Advertisement