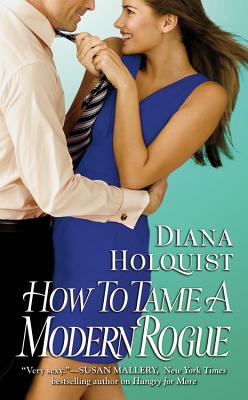 How to Tame a Modern Rogue (Mass Market)
Forever, 9780446197052, 320pp.
Publication Date: August 1, 2009
* Individual store prices may vary.
Description
Commitment-phobic Sam Carson has only dated model-gorgeous women. But one stolen kiss from a plain-Jane schoolteacher and he's hell-bent on stripping away her floral dresses and teaching her the art of being bad. If only her good-girl ways didn't make him want to be a better man . . .

Ally Giordano is at the end of her rope. Her beloved grandmother actually believes that she's living in her favorite romance novel in Regency England and Ally doesn't have the heart to set her straight. But now Granny Donny's last wish is for a retreat to the country and Ally can't refuse her...until she demands that Sam accompany them. And though his smiles turn her knees into jelly, Ally knows better than to trust a playboy...and she definitely knows better than to try to change one. Or does she?
About the Author
Diana Holquist: I love to write. That's pretty much all I do. Ask my family about the undone laundry, the unbought groceries, and the fact that I rarely find time to get dressed in the morning. Actually, if you train your family right, they won't notice any of these things. "Popcorn for dinner again, Mom! Cool," say my filthy children. God bless them, they don't know what panty hose are. Oh, my poor husband. What else is there to know about me? I love kids. I love cats. I love chocolate (not necessarily in that order). And I love to hear from readers. So you can log on to my website at www.dianaholquist.com and let me know what's on your mind!
Praise For How to Tame a Modern Rogue…
RAVES FOR DIANA HOLQUIST AND HUNGRY FOR MORE:

"Fascinating...an enticing feel-good romance with lovable secondary characters."
--Booklist

"Delightful...(an) entertaining read."
--Romantic Times BOOKreviews Magazine

"Witty and full of sizzling sex!"
--Romance Readers Connection

"A fast paced, fun read...Diana Holquist has whipped up an entertaining and delicious tale."
--Romance Reviews Today

SEXIEST MAN ALIVE:

"Entertaining and enjoyable"
--Romantic Times BOOKreviews Magazine

"I devoured this book and wanted to beg for more. Ms. Holquist is a gifted storyteller who makes you laugh, cry, and cheer. Do not miss this book!"
--Coffee Time Romance

"A fun romance..the feel good book that is as sweet as hot chocolate on a cool fall night." --The Parkersburg News

MAKE ME A MATCH:
"An amazing debut...this book has it all: humor, heart, and razor sharp writing. Diana Holquist is a writer to watch."
--Deirdre Martin, USA Today bestselling author

"Four stars! Peopled with charming characters and containing a fascinating, almost believable paranormal element, Holquist's novel is pure entertainment from beginning to end."
--Romantic Times BOOKreviews Magazine
or
Not Currently Available for Direct Purchase