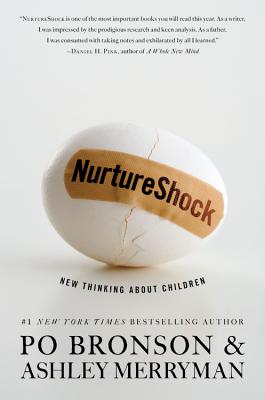 NurtureShock
New Thinking About Children
Hardcover

* Individual store prices may vary.
Other Editions of This Title:
Digital Audiobook (9/2/2009)
Paperback (1/5/2011)
CD-Audio (9/3/2009)
Hardcover (6/1/2011)
Paperback (4/1/2010)
Description
In a world of modern, involved, caring parents, why are so many kids aggressive and cruel? Where is intelligence hidden in the brain, and why does that matter? Why do cross-racial friendships decrease in schools that are more integrated? If 98% of kids think lying is morally wrong, then why do 98% of kids lie? What's the single most important thing that helps infants learn language?
NurtureShock is a groundbreaking collaboration between award-winning science journalists Po Bronson and Ashley Merryman. They argue that when it comes to children, we've mistaken good intentions for good ideas. With impeccable storytelling and razor-sharp analysis, they demonstrate that many of modern society's strategies for nurturing children are in fact backfiring--because key twists in the science have been overlooked.
Nothing like a parenting manual, the authors' work is an insightful exploration of themes and issues that transcend children's (and adults') lives.
Praise For NurtureShock: New Thinking About Children…
"The authors throw open the doors on this research to create a book that is not only groundbreaking but compelling as well. Even if you don't have children, or your kids are grown, you should find the revelations about how the brain works and the rigors and frustrations of the scientific process captivating . . . We see [Bronson and Merryman] doggedly digging for answers to confounding questions . . . Bronson, with his gentle, conversational style, lays out every conundrum clearly, and shows all the steps the researchers took to ensure accurate results, including tweaking their testing methods when results were inconclusive or seemed flawed. In a sense, it's "Science for Dummies" - explaining cutting-edge research to a lay readership... Riveting."
—
San Francisco Chronicle
"Engaging . . . It's not didactic - more of a revelatory journey . . . Bronson relays some startling scientific findings . . .
Nobody's ever done this before
in a systematic way . . . Using the simple technique of speaking to researchers and observing them at work, Bronson and Merryman avoid the smugness common to the parenting oeuvre, which is often rather self-satisfied and/or guilt-inducing. This book's great value is to show that much of what we take to be the norms of parenting - i.e. what's good for children - is actually non-scientific and based on our own adult social anxieties . . . This is
a funny, clever, sensible book. Every parent should read it
."—
The Financial Times
"NURTURESHOCK is one of the most important books you will read this year. Bronson and Merryman move parenting out of the realm of folklore and into the realm of science -- and reveal what decades of studies teach us about the complexities of raising, happy, healthy, self-motivated kids. As a writer, I was impressed by the prodigious research and keen analysis. As a father, I was consumed with taking notes and exhilarated by all I learned."
—
Daniel H. Pink, author of A WHOLE NEW MIND
"The least touchy-feely [parenting book] ever . . . Bronson delights in showing that most parental intuition and supposedly common knowledge about child rearing is just bullshit, and he has the facts to prove it. Much like in his previous work, he's entered a genre known for emotional cheese, and produced a book that's hard to put down and easy to take seriously.
Grade: A
"—
The Onion AV Club
"Bronson is a writer who can capture unwieldy topics such as Silicon Valley (
The Nudist on the Late Shift
), family (
Why Do I Love These People
?) and big decisions (
What Should I Do with My Life
?). Now, in
Nurtureshock
, he's taking on child rearing, and raising some issues about adolescent intelligence, language acquisition, early friendships and aggression that will surprise even well-informed parents."—
Time Out New York
"
A provocative collection of essays popularizing recent research that challenges conventional wisdom about raising children...[Bronson and Merryman] ably explore a range of subjects of interest to parents... Their findings are often surprising.
For example, in schools with greater racial diversity, the odds that a child will have a friend of a different race decrease; listening to "baby DVDs" does not increase an infant's rate of word acquisition; children with inconsistent and permissive fathers are nearly as aggressive in school as children of distant and disengaged fathers. Bronson and Merryman call attention to what they see as two basic errors in thinking about children. The first is the fallacy of similar effect-the assumption that what is true for adults is also true for children. The second-the fallacy of the good/bad dichotomy-is the assumption that a trait or factor is either good or bad, when in fact it may be both (e.g., skill at lying may be a sign of intelligence, and empathy may become a tool of aggression.) The authors also provide helpful notes for each chapter and an extensive bibliography.
A skilled, accessible presentation of scientific research in layman's language
."—
Kirkus
"Bronson is a modern Studs Terkel."
—
Glasgow Herald
"Irresistible... [NurtureShock] will make you a better mom or dad without you even knowing it."
—
TheDailyBeast.com
"Adds insight to irresistible nonfiction subject matter... destined to turn up in conversations among working parents."
—
Susan Dominus
,
New York Times
"Some of the most groundbreaking research on children conducted in years... will knock your socks off."
—
HuffingtonPost.com
"The most important book I've read this year... If you only read one thing I review, please make it this."
—
Wired
"A highly readable Malcolm Gladwell-esque look at the social science of child rearing."
—
"XX Factor," Slate. com
"Blinding... Brilliant."
—
Washington Post
Astonishing... prepare to be slack-jawed... This tour de force is one of the best parenting psychology books in years and will likely be seismic in influence."
—
Library Journal (Starred Review)
"The Freakonomics of child rearing... a fantastic read... a wake-up call for parents."
—
Good Morning America
"As he did in
What Should I Do With My Life?
, his 2002 bestseller, Bronson has adroitly polished a fairly unoriginal subject into high-gloss pop psychology. This isn't the big news of the day, but the small, consequential news that affects our daily lives; it's the stuff of breakfast shows and private-school parenting seminars. It's 'What Should I Do With My Kids?'"
—
The New York Times Review of Books
Twelve, 9780446504126, 352pp.
Publication Date: September 3, 2009
About the Author
Po Bronson is the author of seven books, including What Should I Do with My Life?, a #1 New York Times bestseller with more than ten months on the list. Po has been on Oprah, on every national morning show, and on the cover of five magazines, including Wired and Fast Company. He is Strategy Director at IndieBio. He lives in San Francisco with his wife and two children. Ashley Merryman's journalism has appeared in Time, Newsweek, New York, the Washington Post, and many other venues. She lives in Los Angeles.
Coverage from NPR
or
Not Currently Available for Direct Purchase