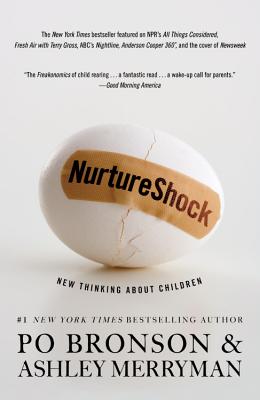 NurtureShock
New Thinking About Children
Paperback

* Individual store prices may vary.
Other Editions of This Title:
Digital Audiobook (9/2/2009)
CD-Audio (9/3/2009)
Description
In a world of modern, involved, caring parents, why are so many kids aggressive and cruel? Where is intelligence hidden in the brain, and why does that matter? Why do cross-racial friendships decrease in schools that are more integrated? If 98% of kids think lying is morally wrong, then why do 98% of kids lie? What's the single most important thing that helps infants learn language?
NurtureShock is a groundbreaking collaboration between award-winning science journalists Po Bronson and Ashley Merryman. They argue that when it comes to children, we've mistaken good intentions for good ideas. With impeccable storytelling and razor-sharp analysis, they demonstrate that many of modern society's strategies for nurturing children are in fact backfiring--because key twists in the science have been overlooked.
Nothing like a parenting manual, the authors' work is an insightful exploration of themes and issues that transcend children's (and adults') lives.
Praise For NurtureShock: New Thinking About Children…
"The Freakonomics of child rearing... a fantastic read... a wake-up call for parents."
—Good Morning America

Astonishing... prepare to be slack-jawed... This tour de force is one of the best parenting psychology books in years and will likely be seismic in influence."
—Library Journal (Starred Review)

"Blinding... Brilliant."
-- Washington Post

Compelling... Captivating... Explains cutting-edge research to the lay readership... It's riveting."
-- San Francisco Chronicle

"A highly readable Malcolm Gladwell-esque look at the social science of child rearing."
-- 'XX Factor,' Slate.com

"The most important book I've read this year... If you only read one thing I review, please make it this."
—Wired

"Some of the most groundbreaking research on children conducted in years... will knock your socks off."
—HuffingtonPost.com

"Engaging.... revelatory... A funny, clever, sensible book. Every parent should read it."
—Financial Times

"Adds insight to irresistible nonfiction subject matter... destined to turn up in conversations among working parents."
—Susan Dominus, New York Times

"The least touchy-feely [parenting book] ever... hard to put down and easy to take seriously."
—"A.V. Club," The Onion

"Irresistible... [NurtureShock] will make you a better mom or dad without you even knowing it."
—TheDailyBeast.com
Twelve, 9780446504133, 352pp.
Publication Date: January 5, 2011
About the Author
Po Bronson is the author of seven books, including What Should I Do with My Life?, a #1 New York Times bestseller with more than ten months on the list. Po has been on Oprah, on every national morning show, and on the cover of five magazines, including Wired and Fast Company. He is Strategy Director at IndieBio. He lives in San Francisco with his wife and two children. Ashley Merryman's journalism has appeared in Time, Newsweek, New York, the Washington Post, and many other venues. She lives in Los Angeles.