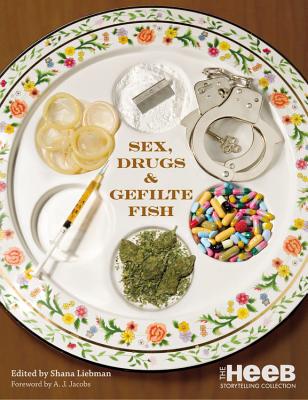 Sex, Drugs & Gefilte Fish (Paperback)
The Heeb Storytelling Collection
Grand Central Publishing, 9780446504621, 288pp.
Publication Date: October 1, 2009
* Individual store prices may vary.
or
Not Currently Available for Direct Purchase
Description
Scoring weed for your uncle...Hanging out with porn stars on Christmas Eve...Eating nachos with the Mossad...Observing the Dyke Days of Awe...Getting held up at a Weight Watcher's meeting...Spying on your naked Hebrew School teacher.

From Heeb magazine--the definitive voice of a proud, searching, and irreverent new generation of American Jews--this first-of-a-kind fast and fun showcase spotlights the hilarious and heartful raconteurial gifts of many of today's leading writers, comedians, actors, artists, and musicians. Laura Silverman, Michael Showalter, Andy Borowitz, Joel Stein, Ben Greenman, Darrin Strauss, and others navigate sex, drugs, work, youth, family, and, on the lighter side, body and soul. You'll never bleach your arm hair again.
About the Author
Shana Liebman, the Arts Editor of "Heeb" Magazine, conceived and now curates the "Heeb "Storytelling series. She has a BA in English from BrownUniversity and an MFA in fiction writing from ColumbiaUniversity. She is also a freelance writer and editor who has worked for The Village Voice, PAPER, Salon, The New York Observer and The Independent, and is a regular contributor to New York Magazine.
Praise For Sex, Drugs & Gefilte Fish: The Heeb Storytelling Collection…
"[This is] the era of Sarah Silverman, Heeb Magazine and Curb Your Enthusiasm"
-Entertainment Weekly

"The oldest tradition of our people, that of telling our stories with humor, passion, and sincerity, has been transformed by the newest generation of Jewish minds and souls. From the irreverent to the desperate; from the sacred to the profane; from the tender to the torturous: this is the voice of the next wave of the Jewish experience. You will laugh, you will cry, you will blush, you will call your Aunt Pearl. Thank G-d literature in print is alive and well and thank G-d that HEEB has captured it all."
--Mayim Bialik

"With Sex, Drugs & Gefilte Fish, Heeb proves once again that it is the undisputed voice of young Jews today. G-d help us all."
--Brett Ratner

"After reading this book, I feel relieved as well certain that Jews will be able to retain control of the media."
--Roseanne Barr

"Move over Cynthia Ozick, Michael Chabon, Jonathan Safran Foer, Nicole Krauss, and the rest of 'em...there's a new group of Jews writing about stuff from a Jew's perspective!! Finally, this last hurdle (entrance in the literary profession) has been hurdled in a Jewish way by a bunch of Jews!"
--David Cross
Book Videos
Advertisement