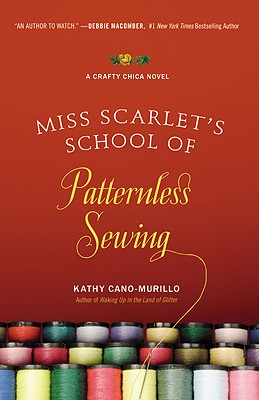 Miss Scarlet's School of Patternless Sewing (Paperback)
Grand Central Publishing, 9780446509237, 336pp.
Publication Date: March 8, 2011
Description
Sometimes to find your life's true path, you have to stray outside the lines . . .

Scarlet Santana is never happier than when creating fabulous fashions for women of all shapes and sizes. Now, after years of hard work, she finally has the chance to live her dream and study under the hottest designer in New York. To raise money for her move, Scarlet opens an after-hours sewing school in a local record shop, teaching a type-A working mom whose rigid parenting style is causing her family to unravel and an enigmatic seamstress with a mysterious past.

But as stitches give way to secrets and classmates become friends, the women realize an important truth: There is no single pattern for a good life. Happiness is always a custom fit.
About the Author
Kathy Cano-Murillo is a lifelong writer and artist. Her crafts have been carried by hundreds of retailers, including Bloomingdales, Target, and Hallmark. She is a former entertainment reporter for The Arizona Republic, and has authored seven books, including Crafty Chica's Guide to Artful Sewing. She is the founder of CraftyChica.com, a wildly popular web site to inspire women to brighten their lives with clever craft ideas. She has a web series on LifetimeTV.com, and can be seen on HGTV and DIY Network. She has been profiled in The New York Times, USA Today and NPR, and now has an extensive Crafty Chica product line. Kathy lives in Phoenix, AZ, with her husband, two kids and five Chihuahuas. Her motto for life is "Crafts, drama and glitter."
Praise For Miss Scarlet's School of Patternless Sewing…
"With wit and sass reminiscent of Fannie Flagg, Cano-Murillo manages to extract much mirth from her cast of craftsters, each striving to transcend restrictive patterns in life (as well as dressmaking) and to defeat family expectations that are squelching self-expression."
-Kirkus

"A fun read about stumbling into love, honoring friendship, and celebrating the power of craft. Full of good cheer!"
-Kate Jacobs, New York Times bestselling author of The Friday Night Knitting Club on WAKING UP IN THE LAND OF GLITTER

"Every word in this hilarious, fun read sparkles. Kathy Cano-Murillo is certainly an author to watch. I woke up in the land of happy reading!"
-Debbie Macomber, #1 New York Times bestselling author on WAKING UP IN THE LAND OF GLITTER

"Waking Up in the Land of Glitter is wildly addictive! Funny, sweet, and slyly wicked, it draws you in so deeply that you're not even remotely mad you've spent the night on the couch, reading, and missed all of your shows on Bravo."
-Laurie Notaro, New York Times bestselling author on WAKING UP IN THE LAND OF GLITTER

"Kathy's novel dazzles! Through Ofie's purity of heart, Chloe's emotional transformation and Star's awakening to the shine that was always there, Waking Up in the Land of Glitter weaves a story of friendship, trust and self-discovery. Whether you're a painter, crocheter, sewer or have nary the crafty bone in your body you'll leave reading this book with the feeling that creativity is key, but love conquers all! A must-read for crafty women of all generations!"
-Vickie Howell, host of DIY Network's Knitty Gritty and author of Pop Goes Crochet on WAKING UP IN THE LAND OF GLITTER

"Kathy Cano-Murillo is an amazing storyteller--her narrative is as bejeweled as her crafty creations!"
-Alberto Ferreras, author of B as in Beauty on WAKING UP IN THE LAND OF GLITTER

"Who knew that glitter really does make the world a better place? Kathy's book is creative, inspirational and empowering, just like she is. I couldn't put it down!"
-Terri O, TV Personality, Spokesperson, Craft Expert www.terriocraftprojects.com on WAKING UP IN THE LAND OF GLITTER

" Clever character building and a fun storyline will leave readers with a case of the warm fuzzies. Just the thing to curl up with on a cold stormy day or take to the beach."
-MonstersandCritics.com on WAKING UP IN THE LAND OF GLITTER

"Cano-Murillo celebrates friendship and crafting in her fun, fabulous Crafty Chica novel. You'll want to get out your glue gun and invite your best friends over after reading this one."
-RT Book Reviews on WAKING UP IN THE LAND OF GLITTER

"Cano-Murillo, known as the 'Crafty Chica' and for her line of craft products, has delved into the writing world to create one of the most lively, imaginative novels I've run across lately. Full of humor, love, friendship and some pretty cool art projects, Waking Up in the Land of Glitter will have readers howling one minute, sobbing the next, and reaching for their trusty glue guns to create their very own 'love shrines' before the end of the book. This novel was just a delightful glittery, shiny, light-hearted treat."
-Las Vegas Review-Journal on WAKING UP IN THE LAND OF GLITTER
Advertisement