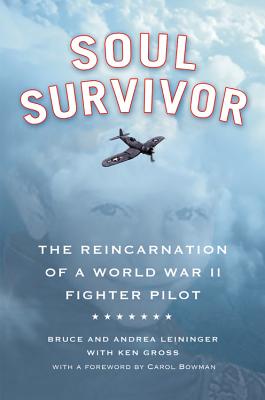 Soul Survivor (Hardcover)
The Reincarnation of a World War II Fighter Pilot
Grand Central Publishing, 9780446509336, 272pp.
Publication Date: June 1, 2009
* Individual store prices may vary.
Description
This is the story of James Leininger, who-- a little more than two weeks after his second birthday-- began having blood-curdling nightmares that just would not stop. When James began screaming out recurring phrases like, "Plane on fire! Little man can't get out!" the Leiningers finally admitted that they truly had to take notice.

When details of planes and war tragedies no two-year-old boy could know continued-- even in stark daylight-- Bruce and Andrea Leininger began to realize that this was an incredible situation. SOUL SURVIVOR is the story of how the Leiningers pieced together what their son was communicating and eventually discovered that he was reliving the past life of World War II fighter pilot James Huston. As Bruce Leininger struggled to understand what was happening to his son, he also uncovered details of James Huston's life-- and death-- as a pilot that will fascinate military buffs everywhere.

In SOUL SURVIVOR, we are taken for a gripping ride as the Leiningers' belief system is shaken to the core, and both of these families come to know a little boy who, against all odds and even in the face of true skeptics, harbors the soul of this man who died long ago.
About the Author
Bruce and Andrea Leininger, James' parents, live in Louisiana with their son James, who is now nine years old.
Praise For Soul Survivor: The Reincarnation of a World War II Fighter Pilot…
"James Leininger's story is the most compelling evidence so far for reincarnation."
--T.J. MacGregor, Edgar-winning author of Running Time

"Whether you believe in reincarnation or not, you can't help being impressed by the compelling evidence in its favor from this story of James Leininger, an American child who has recurring memories of a past life as World War II fighter pilot, James Huston, who was killed in the battle for Iwo Jima. Soul Survivor is a fascinating read; highly recommended." --Phyllis Vega author of What Your Birthday Reveals About You and Lovestrology

"Soul Survivor describes the case of James Leininger, a spectacular example of the phenomenon of young children who seem to remember previous lives. We are fortunate that one of our guides for the story is James' father Bruce, who approaches the situation with a critical attitude. His insistence on doubting each piece of information until it can be verified makes the eventual conclusion that James's parents reach--that he is indeed remembering the life of a deceased World War II pilot--well-earned. Anyone interested in the possibility of past-life memories, or anyone who thinks it can be easily dismissed, needs to read this book. " --Jim B. Tucker, M.D., Assistant Professor of Psychiatry and Neurobehavioral Sciences at the University of Virginia and author of Life Before Life: A Scientific Investigation of Children's Memories of Previous Lives

"I believe with all my heart that James is James again. His story is riveting. I am sure this book will cause readers to see the truth: That we do come back here again, so we should make the most of the chances we have this time around." --Concetta Bertoldi, author of the New York Times bestseller Do Dead People Watch You in the Shower?
Book Videos
or
Not Currently Available for Direct Purchase