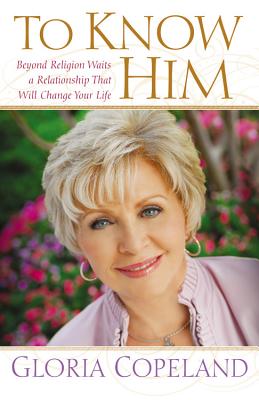 To Know Him (Paperback)
Beyond Religion Waits a Relationship That Will Change Your Life
FaithWords, 9780446511247, 224pp.
Publication Date: September 16, 2008
* Individual store prices may vary.
Description
For readers who feel there is something missing in their daily walk with God, Gloria Copeland explains that relationship-learning to talk with and listen to God in daily encounters-is what will change their lives. Knowing God requires a lifestyle of communion with Him. While religion creates numbing routine, relationship ignites the power to overcome sin and to prosper in every area of life. Regularly communicating with God strengthens believers, builds their faith, and makes way for them to lay hold of all God's blessings through Jesus Christ. Warm, personal, and inspiring, TO KNOW HIM is a friendly guide to discovering an exciting, promising relationship with God.
About the Author
Gloria Copeland is an internationally known Bible teacher and bestselling author. She holds an honorary doctorate from Oral Roberts University. Gloria and her husband, Kenneth, are the founders of Kenneth Copeland Ministries in Fort Worth, Texas (www.kcm.org).