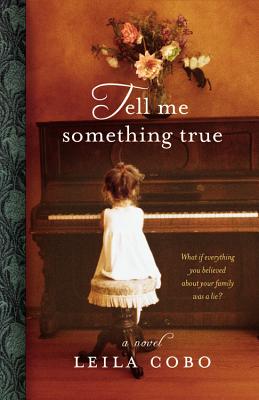 Tell Me Something True (Paperback)
Grand Central Publishing, 9780446519366, 320pp.
Publication Date: October 1, 2009
* Individual store prices may vary.
Description
A young Colombian-American woman uncovers the truth about her deceased mother's secret past in this beautiful and poignant debut novel from journalist Leila Cobo.
Gabriella always loved the picture of her mother kneeling in front of a bed of roses, smiling, beautiful and impossibly happy. But then she learns that her late mother hated gardening; that she had never wanted the house in the Hollywood hills, the successful movie producer husband, and possibly, her only daughter.
When Gabriella discovers a journal--a book that begins as a new mother's letters to her baby girl, but becomes a secret diary--the final entry leaves one question unanswered: the night her mother died, was she returning to Colombia to end an affair, or was she abandoning her family for good?
Tell Me Something True is the bittersweet story of a daughter learning to see her mother as a woman, and not just a parent.
About the Author
Renowned journalist and former concert pianist, Leila Cobo is a native of Cali, Colombia. The Executive Director of Latin Content & Programming for Billboard, she is a frequent contributor to NPR and has written liner notes for acts such as Ricky Martin, Shakira and Chayanne. She is also the host of the television show Estudio Billboard, which features in-depth interviews with top Latin acts. Leila is a Fulbright scholar with a graduate degree from the Annenberg School of Communications at USC and holds dual degrees in journalism, from Bogota's Universidad Javeriana, and in piano performance from the Manhattan School of Music. She currently lives in Key Biscayne, Fl. with her husband and children.
Praise For Tell Me Something True…
"[A] poignant tale of truths hidden and laid bare."—
Booklist
"The smooth prose and authentic Colombian settings provide a unique spin to familiar territory."—
Publishers Weekly
"A good story, delicately told with pathos and compassion."—
BookLoons Reviews
"This heart-wrenching story focuses on how memories permeate the everyday, the relationship between mothers and daughters, and the role family plays in our most intimate relationships."—
RT Book Reviews
"Con una trama que deja al lector preguntando por una continuación de esta historia, la periodista y pianista Leila Cobo ingresa con el pie derecho al mundo de la novela con su primer libro,
Tell Me Something True.
" -
Semana
("With a story that leaves the reader wanting more, journalist and pianist Leila Cobo enters the literary world on the right foot with her first novel,
Tell Me Something True
."—
Semana
"This first novel, one of the best that I have read all year, throws question after question at the reader and tosses us all back to our first loves and the choices we may or may not have made....Relentless an absolutely honest, the surprise ending is unbeatable. Wonderful writing, content, themes and characters... this novel is a must read. Bravo!"—
www.thereviewbroads.com
"Raw, passionate, honest and fearless."—
Examiner.com"Tell Me Something True
is an utterly wonderful and riveting book that had me in its clutches from the first page. It is lyrical and sensual with no word out of place. The character development is perfect, deep and meaningful, bringing the reader into the heart of the protagonists and their lives. In a sense, this novel sang to me in its poignant story of great loves."—
www.mostlyfiction.com
"[
Tell Me Something True
] is a well told story. The characters are alive and maintain a reader's interest until the last word."—
Midwest Book Review