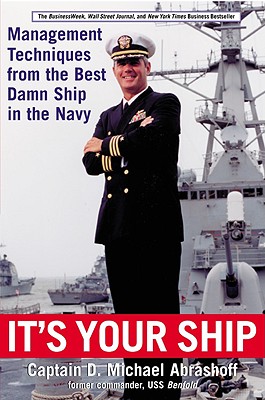 It's Your Ship: Management Techniques from the Best Damn Ship in the Navy (Hardcover)
Management Techniques from the Best Damn Ship in the Navy
Business Plus, 9780446529112, 224pp.
Publication Date: May 1, 2002
* Individual store prices may vary.
or
Not Currently Available for Direct Purchase
Description
The story of Captain D. Michael Abrashoff and his command of USS Benfold has become legendary inside and outside the Navy. Now Abrashoff offers this fascinating tale of top-down change for anyone trying to navigate today's uncertain business seas. When Captain Abrashoff took over as commander of USS Benfold, a ship armed with every cutting-edge system available, it was like a business that had all the latest technology but only some of the productivity. Knowing that responsibility for improving performance rested with him, he realized he had to improve his own leadership skills before he could improve his ship. Within months he created a crew of confident and inspired problem-solvers eager to take the initiative and take responsibility for their actions. The slogan on board became "It's your ship," and Benfold was soon recognized far and wide as a model of naval efficiency. How did Abrashoff do it? Against the backdrop of today's United States Navy-Benfold was a key player in our Persian Gulf fleet-Abrashoff shares his secrets of successful management including:
See the ship through the eyes of the crew: By soliciting a sailor's suggestions, Abrashoff drastically reduced tedious chores that provided little additional value.
Communicate, communicate, communicate: The more Abrashoff communicated the plan, the better the crew's performance. His crew would eventually call him "Megaphone Mike," since they heard from him so often.
Create discipline by focusing on purpose: Discipline skyrocketed when Abrashoff's crew believed that what they were doing was important.
Listen aggressively: After learning that many sailors wanted to use the GI Bill, Abrashoff brought a test official aboard the ship-and held the SATs forty miles off the Iraqi coast. From achieving amazing cost savings to winning the highest gunnery score in the Pacific Fleet, Captain Abrashoff's extraordinary campaign sent shock waves through the U.S. Navy. It can help you change the course of your ship, no matter where your business battles are fought.
About the Author
At the age of 36, the Navy selected Mike to become Commander of USS Benfold - at the time, the most junior commanding officer in the Pacific Fleet. The immediate challenges that faced him were staggering: Exceptionally low morale with unacceptably high turnover and poor performance results. Few thought that this ship could improve. The solution was to establish a system of management techniques that Mike calls Grassroots Leadership. At the core of his leadership approach on Benfold was a process of replacing command and control with commitment and cohesion, and by engaging the hearts, minds, and loyalties of workers - with conviction and humility. "The most important thing that a captain can do is to see the ship through the eyes of the crew." According to Mike, Grassroots Leadership and his Leadership Roadmap is a practice that empowers every individual to share the responsibility of achieving excellence. "It's your ship," he was known to say. His former sailors to this day still remind him of it.By every measure, these principles were able to achieve breakthrough results. Personnel turnover decreased to an unprecedented 1 percent. The rate of military promotions tripled, and the crew slashed operating expenses by 25 percent. Regarded as the finest ship in the Pacific Fleet, Benfold won the prestigious Spokane Trophy for having the highest degree of combat readiness.Mike recounted the leadership lessons from his turnaround of USS Benfold in It's Your Ship. First published in 2002, it quickly became a classic in the field of management books. It's a New York Times and Wall Street Journal Best Seller.Prior to commanding USS Benfold, Mike served as the Military Assistant to the Secretary of Defense, the Honorable Dr. William J. Perry. He also helped draft the air defense plan for naval forces in the Persian Gulf in 1990, coinciding with Iraq's invasion of Kuwait; and served as the Executive Officer of the Cruiser Shiloh, where he deployed to the Persian Gulf in support of United Nations sanctions against Iraq.Mike, a 1982 graduate of the United States Naval Academy, is now an experienced entrepreneur and thought leader having founded GLS World, a leadership development company dedicated to helping organizations an individuals deliver the best results in a challenging global environment. You can visit his website at www.glsworld.com.
Advertisement