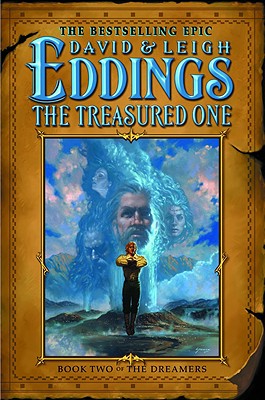 The Treasured One
Book Two of The Dreamers
Hardcover

* Individual store prices may vary.
Other Editions of This Title:
Mass Market (7/1/2005)
Description
Jalkan stumbled back, spitting blood, teeth, and curses and he clawed at his knife-hilt. Keselo's sword, however, came out of its sheath more smoothly and rapidly. The young man put the point of his sword against the bone-thin Trogite's throat. "Drop it, Jalkan," he said quite firmly. "Drop the knife, or I'll kill you right here on the spot." "But this peasant just hit me!" Jalkan screamed. "That's a hanging offense! I'm an officer!" "Not anymore, you aren't," Narasan declared in a flat tone of voice. "I've put up with you for much too long already, and you've just given me something that I've been waiting for. Your army career is finished, Jalkan, and good riddance." "You can't do that!" Jalkan screamed at Narasan. "I paid gold for my commission! Gold!" -from The Treasured One.
Aspect, 9780446532266, 480pp.
Publication Date: October 26, 2004
About the Author
David Eddings published his first novel, High Hunt, in 1973, before turning to the field of fantasy with the pioneering series The Belgariad. Born in Spokane, WA, he received his Bachelor of Arts degree from Reed College in Portland, Oregon, in 1954 and a Master of Arts degree from the University of Washington in 1961. He has served in the United States Army, has worked as a buyer for the Boeing Company, has been a grocery clerk, and college English teacher.

Leigh Eddings has collaborated with her husband since the beginning. They live in Nevada.