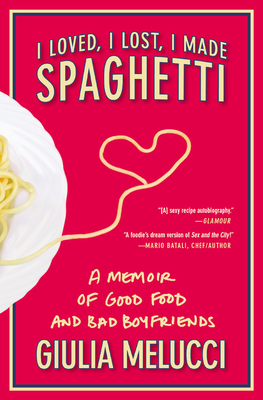 I Loved, I Lost, I Made Spaghetti (Paperback)
A Memoir of Good Food and Bad Boyfriends
Grand Central Publishing, 9780446534413, 304pp.
Publication Date: May 5, 2010
* Individual store prices may vary.
Description
From failure to fusilli, this deliciously hilarious read tells the story of Giulia Melucci's fizzled romances and the mouth-watering recipes she used to seduce her men, smooth over the lumps, and console herself when the relationships flamed out.

From an affectionate alcoholic, to the classic New York City commitment-phobe, to a hipster aged past his sell date, and not one, but two novelists with Peter Pan complexes, Giulia has cooked for them all. She suffers each disappointment with resolute cheer (after a few tears) and a bowl of pastina (recipe included) and has lived to tell the tale so that other women may go out, hopefully with greater success, and if that's not possible, at least have something good to eat.

Peppered throughout Giulia's delightful and often poignant remembrances are fond recollections of her mother's cooking, the recipes she learned from her, and many she invented on her own inspired by the men in her life. Readers will howl at Giulia's boyfriend-littered past and swoon over her irresistable culinary creations.
About the Author
Giulia Melucci was born and raised in Brooklyn, NY where she still lives, but in a more fashionable neighborhood. She is the former VP of PR for Harper's Magazine, and previously worked at Spy Magazine, Atlantic Monthly Press, Viking, Dutton and Scribner. Visit her website at http://www.ilovedilostimadespaghetti.com.
Praise For I Loved, I Lost, I Made Spaghetti: A Memoir of Good Food and Bad Boyfriends…
" It's a foodie's dream version of
Sex and the City
!"
-Mario Bat
ali
, Chef/Author
"The culinary equivalent of a beach read... Melucci swims through the dating pool with pluck and unflagging humor."
-
New York Times
Book Review
"In this endearing memoir-with-recipes, cooking is an artistic endeavor that brings order to the chaos of dating."
-
People Magazine
"Anyone who has wondered, "Will I ever find Mr. Right?" will appreciate this sprightly debut."

-Library Journal
(starred review)
"Snortingly funny."
-
Entertainment Weekly
"A sexy recipe autobiography."
-
Glamour
"A tasty treat."
-
Kirkus Reviews
"Proves that the cure for a broken heart is pasta."
-
Vanity Fair
"Blends sex and food into a great comic feast of life."
-
Newark Star-Ledger
"A scrumptious, hilarious and poignant memoir about sauce gone right and love gone wrong."
-Adriana Trigiani, bestselling author of VERY VALENTINE
"A wonderfully funny and moving book. It's like EAT PRAY LOVE, with recipes."
-A.J. Jacobs, author of THE KNOW-IT-ALL