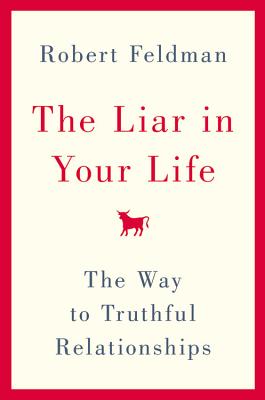 The Liar in Your Life
The Way to Truthful Relationships
Hardcover

* Individual store prices may vary.
Other Editions of This Title:
Paperback (8/9/2010)
CD-Audio (8/3/2009)
Description
In The Liar in Your Life, psychology professor Robert Feldman, one of the world's leading authorities on deception, draws on his immense body of knowledge to give fresh insights into how and why we lie, how our culture has become increasingly tolerant of deception, the cost it exacts on us, and what to do about it. His work is at once surprising and sobering, full of corrections for common myths and explanations of pervasive oversimplifications.

Feldman examines marital infidelity, little white lies, career-driven resumé lies, and how we teach children to lie. Along the way, he reveals-despite our beliefs to the contrary- how it is nearly impossible to spot a liar (studies have shown no relationship between nervousness, lack of eye contact, or a trembling voice, and acts of deception). He also provides startling evidence of just how integral lying is to our culture; indeed, his research shows that two people, meeting for the first time, will lie to each other an average of three times in the first ten minutes of a conversation.

Feldman uses this discussion of deception to explore ways we can cope with infidelity, betrayal, and mistrust, in our friends and family. He also describes the lies we tell ourselves: Sometimes, the liar in your life is the person you see in the mirror. With incisive clarity and wry wit, Feldman has written a truthful book for anyone who whose life has been touched by deception.


Twelve, 9780446534932, 304pp.
Publication Date: August 1, 2009
About the Author
A Fellow of both the American Psychological Association and Association for Psychological Science, Robert Feldman's research has examined lying and everyday deception for over 25 years. His studies have been supported by grants from the U.S. National Institute of Mental Health and the National Institute on Disabilities and Rehabilitation Research.
Coverage from NPR
or
Not Currently Available for Direct Purchase