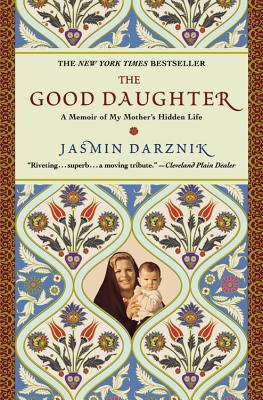 The Good Daughter
A Memoir of My Mother's Hidden Life
Paperback

* Individual store prices may vary.
Other Editions of This Title:
Paperback (2/1/2011)
Paperback (3/1/2012)
Hardcover (1/1/2011)
Description
We were a world of two, my mother and I, until I started turning into an American girl. That's when she began telling me about The Good Daughter. It became a taunt, a warning, an omen.

Jasmin Darznik came to America from Iran when she was only three years old, and she grew up knowing very little about her family's history. When she was in her early twenties, on a day shortly following her father's death, Jasmin was helping her mother move; a photograph fell from a stack of old letters. The girl pictured was her mother. She was wearing a wedding veil, and at her side stood a man whom Jasmin had never seen before.

At first, Jasmin's mother, Lili, refused to speak about the photograph, and Jasmin returned to her own home frustrated and confused. But a few months later, she received from her mother the first of ten cassette tapes that would bring to light the wrenching hidden story of her family's true origins in Iran: Lili's marriage at thirteen, her troubled history of abuse and neglect, and a daughter she was forced to abandon in order to escape that life. The final tape revealed that Jasmin's sister, Sara - The Good Daughter - was still living in Iran.

In this sweeping, poignant, and beautifully written memoir, Jasmin weaves the stories of three generations of Iranian women into a unique tale of one family's struggle for freedom and understanding. The result is an enchanting and unforgettable story of secrets, betrayal, and the unbreakable mother-daughter bond.
Praise For The Good Daughter: A Memoir of My Mother's Hidden Life…
"Superb... riveting... a moving tribute." -The Cleveland Plain Dealer

"A wrenching and unforgettable tale." -BookPage

"Jasmin Darznik is a rare talent, and her family history a dazzler." -More Magazine

"Distinguishes itself from the plethora of recent Iranian American memoirs... a testament to [Iranian women's] resilience." -MS Magazine

"A beautifully recounted homage to her mother's life and struggles." -Booklist

"An eye-opening account that disturbs with its depiction of the place of women in Iranian society, but warms the heart in its portrayal of their gritty endurance." -Kirkus Reviews

Darznik's deeply affecting memoir about her mother, Lili, illuminates the complexity of Iranian women's lives as few books have ever done. Once you read this book, you will see Iran and Iranians with new eyes. A brilliant debut. -Anita Amirrezvani, author of The Blood of Flowers

Intricate, fierce, and genuine, The Good Daughter is a bold and unflinching exploration of faith and family, of love and alienation, of censure and forgiveness. Jasmin Darznik's graceful prose delves with razor-edged introspection into the darkened passageways of her mother's past, and in the process, fulfills the highest ambition of the memoir as a genre: to tell a personal story that, by virtue of its honesty, sheds light on an all too universal truth. -Gina B. Nahai, author of Caspian Rain and Moonlight on the Avenue of Faith
Grand Central Publishing, 9780446534987, 336pp.
Publication Date: November 16, 2011
About the Author
Jasmin Darznik was born in Tehran, Iran. A former attorney, she received her PhD in English from Princeton University. Her writing has appeared in the New York Times, Washington Post, Los Angeles Times, San Francisco Chronicle, and other publications. She has taught Iranian literature at the University of Virginia and is a professor of English and creative writing at Washington and Lee University. She lives in Charlottesville, Virginia.