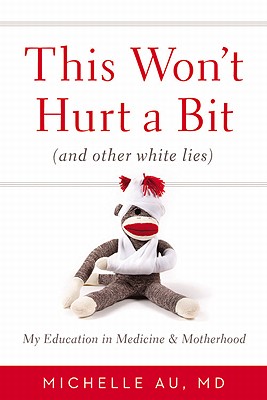 This Won't Hurt a Bit
(And Other White Lies): My Education in Medicine and Motherhood
Hardcover

* Individual store prices may vary.
Description
If Atul Gawande were funny--or Jerome Groopman were a working mother--they might sound something like Michelle Au, M.D., author of this hilarious and poignant memoir of a medical residency.

Michelle Au started medical school armed only with a surfeit of idealism, a handful of old ER episodes for reference, and some vague notion about "helping people."

This Won't Hurt a Bit is the story of how she grew up and became a real doctor.

It's a no-holds-barred account of what a modern medical education feels like, from the grim to the ridiculous, from the heartwarming to the obscene. Unlike most medical memoirs, however, this one details the author's struggles to maintain a life outside of the hospital, in the small amount of free time she had to live it. And, after she and her husband have a baby early in both their medical residencies, Au explores the demands of being a parent with those of a physician, two all-consuming jobs in which the lives of others are very literally in her hands.

Au's stories range from hilarious to heartbreaking and hit every note in between, proving more than anything that the creation of a new doctor (and a new parent) is far messier, far more uncertain, and far more gratifying than one could ever expect.
Praise For This Won't Hurt a Bit: (And Other White Lies): My Education in Medicine and Motherhood…
"In this treasure of a medical memoir, Au makes doctors seem fallible and funny. She opens her book with her attempt, as a third-year medical student, to retrieve a stool sample from a 300-plus-pound 85-year-old. After she finally gets the specimen, she accidentally leaves the card "with its hard-won brown smears" on the table next to an empty bagel tray. After some epiphanies ("I hate working in the pediatric emergency room"), she switches from pediatrics to anesthesiology. Meanwhile, her boyfriend (now husband), Joe, picks ophthalmology, seemingly a good-hours specialty, but one that actually requires being on call every night for two years. After a colleague says he is sure she'll find a "mommy job," she does land a manageable-hour position. Au seems to strike a good balance between being a good mom, wife, and doctor, and stays humble in the process. In fact, she talks frankly about the fear doctors can and should feel: "If you don't admit to being scared sometimes, you're an asshole." Get ready for a new appreciation for the training and life of doctors."—Karen Springen, Booklist

"An account of medicine, marriage and motherhood, executed with style and enough humor to offset the not-always-happy endings for patients.

Make no mistake: For all you hear about humanizing the process, giving residents more sleep time and so on, medical training has not changed much. Medicine remains a craft built on a strict hierarchy. Med school begins with two years of class work followed by two years of rotations as interns in a hospital's clinics. Then comes residency for several years to learn a specialty and maybe more time on a fellowship, until you finally graduate and can call the shots. Attending physician of anesthesiology Au, who began writing humor while an undergraduate at Wellesley, plunges in on page one describing her experience as a fledgling intern asked to reach into the rectum of an obese, demented man to get a stool sample for occult blood testing. After this episode, she backtracks to discuss the whys of choosing medicine and then proceeds chronologically. The daughter of physicians, she was accepted at Columbia's excellent College of Physicians and Surgeons. At the first student mixer, she met Joe, the man she would marry and by whom she would have her first child-just as she changed her residency training from pediatrics to anesthesiology. So add nursing a babe, finding a nanny, firing said nanny, assuming new and increasing patient responsibilities (with attendant fears and anxieties) and dealing with crisis situations, and still Au and her mate soldiered on. The books ends with the couple obtaining joint appointments in Atlanta, she with a 9-5 job as an anesthesiologist and Joe on a fellowship in ophthalmology.

An upbeat memoir by a woman still imbued with the idealism to serve, but also to be there for her husband and two sons."—Kirkus Reviews

"[Au] has a quick eye for comedy and a wry wit that must at times have helped her get through the daunting responsibilities that come with the white coat. The emotional complexity of her work gets full weight in these stories . . . An engaging writer who knows how to entertain, she is also a young mom on a learning curve, a wife who has negotiated a complicated partnership with a professional peer, and a caregiver who has learned how much of compassion depends on sustained awareness that every patient has a story in which she is offered a small supporting role, sometimes at a critical moment . . . after the eight-chapter journey through her formative years, readers will very likely find themselves amused, surprised, touched, and grateful - and wishing for more."—The International Examiner

"A refreshingly witty memoir . . . she tells her story with real wit and wisdom."—Points North magazine

"She is brilliantly funny, has enormous emotional wisdom beyond her years, and displays honesty and humility that brings the reader to the center of her journey, rather than preaching from a false ivory tower of medicine . . . should be required reading for all women interested in medicine and/or starting a family."—Mothers in Medicine

"Honest, irreverent . . .hilarious and heart-breaking . . . this memoir is not just about how [Dr. Au] navigated the medical world. It's about the life she wanted beyond the four walls of the hospital."—StudentDoc.com

"Every five minutes or so I laughed out loud . . . This was one of the funniest books I have read in a long time and it was so poignant . . . PICK THIS BOOK UP."—Heaven is a Bookstore

"Even better than your favorite episodes of ER or Grey's Anatomy, THIS WON'T HURT A BIT packs in all the elements of a truly great read---I laughed, I cried, I cringed and cheered, I learned a lot, and when I finished, I was preoccupied with a sense of awe from the experience for days. In fact, I wish I knew Michelle Au personally so I could call her and say, Tell me more."—Lisa Genova, New York Times-bestselling author of Still Alice and Left Neglected

"A breezy, irreverent account of a doctor's education. Michelle Au's cheek makes for a witty and entertaining read."—Sandeep Jauhar, MD, author of Intern: A Doctor's Initiation

"Forget Grey's Anatomy. If you really want to know what it feels like to be a doctor--especially a new doctor--read this book. Dr. Au hits the bull's-eye."—Katrina Firlik, MD, author of Another Day in the Frontal Lobe: A Brain Surgeon Exposes Life on the Inside

"Here is the experience of medical school, and parenthood, rendered with candor and clarity and poignancy by one who dares tell us all how it goes as those who aim to heal others learn to contend with their own vulnerabilities, their yearning to know so much, achieve so many competencies, and all the while grow steadily to become accomplished physicians for their patients."—Robert Coles, MD, Professor of Psychiatry and Medical Humanities, Harvard Medical School

"A fascinating account of how a smart, driven woman navigates the harrowing parallel worlds of modern medicine and family. This is an excellent book by an engaging writer and admirable doctor. It's also a delight to read."—Michael Ruhlman, author of Walk on Water and The Soul of a Chef

"Funny, accurate, and entertaining. Like "Kitchen Confidential" for hospitals, only less debauchery and more diapers."—Julie Holland, MD, author of Weekends at Bellevue: Nine Years on the Night Shift at the Psych ER

"As anyone who reads her blog knows, Michelle Au is a gifted writer. This Won't Hurt a Bit is an honest account of how Dr. Au balances physician training with the demands of family life. Her witty observations of our health care system are interspersed with stories that can either break your heart or make you laugh. They are always poignant, and give both physicians and patients a fresh, insightful look at how medicine is practiced today."—Kevin Pho, MD, creator of KevinMD.com
Grand Central Publishing, 9780446538244, 336pp.
Publication Date: May 11, 2011
About the Author
Michelle Au graduated from Wellesley College in 1999, received her M.D. from the Columbia University College of Physicians and Surgeons in 2003, and completed her residency in anesthesiology at the Columbia University Medical Center in Manhattan. She is married to Dr. Joseph Walrath, has two sons, and lives in Atlanta, where she is an anesthesiologist in a private practice.