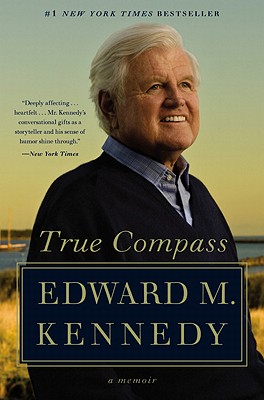 True Compass
A Memoir
Paperback

* Individual store prices may vary.
Other Editions of This Title:
Digital Audiobook (9/13/2009)
Hardcover (9/14/2009)
CD-Audio (9/14/2009)
Compact Disc (9/14/2009)
Description
In this landmark autobiography, five years in the making, Senator Edward M. Kennedy tells his extraordinary personal story -- of his legendary family, politics, and fifty years at the center of national events.

The youngest of nine children born to Joseph P. Kennedy and Rose Fitzgerald Kennedy, he came of age among siblings from whom much was expected. As a young man, he played a key role in the presidential campaign of his brother John F. Kennedy, recounted here in loving detail. In 1962 he was elected to the U.S. Senate, where he began a fascinating political education and became a legislator.

In this historic memoir, Ted Kennedy takes us inside his family, re-creating life with his parents and brothers and explaining their profound impact on him. For the first time, he describes his heartbreak and years of struggle in the wake of their deaths. Through it all, he describes his work in the Senate on the major issues of our time -- civil rights, Vietnam, Watergate, the quest for peace in Northern Ireland -- and the cause of his life: improved health care for all Americans, a fight influenced by his own experiences in hospitals.

His life has been marked by tragedy and perseverance, a love of family, and an abiding faith. There have been controversies, too, and Kennedy addresses them with unprecedented candor. At midlife, embattled and uncertain if he would ever fall in love again, he met the woman who changed his life, Victoria Reggie Kennedy. Facing a tough reelection campaign against an aggressive challenger named Mitt Romney, Kennedy found a new voice and began one of the great third acts in American politics, sponsoring major legislation, standing up for liberal principles, and making the pivotal endorsement of Barack Obama for president.

Hundreds of books have been written about the Kennedys. True Compass will endure as the definitive account from a member of America's most heralded family, an inspiring legacy to readers and to history, and a deeply moving story of a life like no other.
Praise For True Compass: A Memoir…
"[A] deeply affecting memoir... he writes with searching candor about the losses, joys and lapses of his life; the love and closeness of his family; the solace he found in sailing and the sea; his complex relationships with political allies and rivals. Mr. Kennedy's conversational gifts as a storyteller and his sense of humor -- so often remarked on by colleagues and friends -- shine through here, as does his old-school sense of public service and his hard-won knowledge, in his son Teddy Jr.'s words, that 'even our most profound losses are survivable.'"—Michiko Kakutani, The New York Times

"Teddy has made a final, persuasive case for why he may actually be his family's greatest torchbearer."—TIME

"Often touching . . . After a life chronicled in tabloid chatter and often vicious editorial cartoons, Kennedy tells his own story here, expansively yet selectively, portraying himself as a dedicated, loving, flesh-and-blood figure who, despite being born well, had to prove himself. And the person, to whom he most had to do that is clearly etched in these pages. It was neither his famous brothers, nor his pious mother, Rose, nor even himself, but his controversial father, Joseph P. Kennedy Sr. . . This is a book that all but the most toxic Kennedy critic could love . . . Later, there is much substance about his political life. His accounts are richly detailed. As a reporter covering Kennedy decades ago, I learned that he was keeping a diary and knew what a treasure it would someday be. It is. The best insights are perhaps his accounts of Senate maneuverings prior to the impeachment of Bill Clinton, his advocacy for peace in Northern Ireland, the misgivings that he and Robert both had about Vietnam, and the run-up to the latter's presidential campaign and subsequent murder in 1968 . . . He writes with great affection of dating and marrying the warmly elegant Vicki Reggie. The memoir is dedicated to her."—The Boston Globe, Boston Globe

"Touchingly candid, big-hearted and altogether superb . . . Completed in the shadow of the senator's own mortality, this is a book whose clarity of recollection and expression entitles it to share in the lineage established by America's first great memoir of public life -- 'The Autobiography of U.S. Grant,' which he wrote while himself dying of cancer . . . Kennedy was a devoted diarist whose natural gifts as a storyteller and as a sharp, painterly observer shine through every page . . . In the weeks leading up to [the] publication of TRUE COMPASS, much of the obvious 'news' in this book was leaked to the press . . . What's far more remarkable about this memoir is its capacious and generous spirit . . . TRUE COMPASS reminds us -- we 're all the poorer for his absence."—Los Angeles Times

"Based on 50 years of notes and journal entries, this monumentally moving memoir illuminates nearly every aspect of the late senator's personal and public life and times. With incomparable wit and candor, Kennedy offers up his perspective on Senate colleagues, Presidents past, and most of all himself, revealing the tarnish along with the triumphs . . . Deeply affecting on the subjects of grief, his battle with brain cancer and his devotion to family, sailing and the Senate, this is an astonishingly intimate self-portrait of a man whose belief that 'if you persevere . . . you have a real opportunity to achieve something 'was born out by his extraordinary life."—People
Twelve, 9780446539265, 560pp.
Publication Date: April 13, 2011
About the Author
Edward M. Kennedy has represented Massachusetts in the United States Senate for forty-seven years. In 2004 he began interviews at the Miller Center of the University of Virginia for an oral history project about his life. Since then, he has drawn from his fifty years of contemporaneous notes from his personal diaries and worked closely on this book with Pulitzer Prize winner Ron Powers, coauthor of Flags of Our Fathers and author of Mark Twain: A Life.
or
Not Currently Available for Direct Purchase