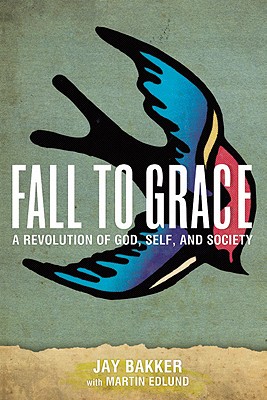 Fall to Grace: A Revolution of God, Self & Society (Hardcover)
A Revolution of God, Self & Society
FaithWords, 9780446539500, 224pp.
Publication Date: January 1, 2011
* Individual store prices may vary.
or
Not Currently Available for Direct Purchase
Description
Jay Bakker explores the radical, transformative, and inclusive message at the heart of Jesus's message: grace.

If anyone ever had a reason to leave the faith, Jay Bakker did. The son of mega-televangelists Jim Bakker and the late Tammy Faye Messner, Bakker was only 11 years old when his parents' PTL ministry was caught in a high-profile accounting fraud scandal, and his family was devastated by his father's affair and his parents' subsequent divorce.

A disillusioned Bakker turned to drugs and alcohol and left his childhood beliefs behind. But along the way, an interesting thing happened: Bakker came to understand, through all his pain, what God's grace was really all about.

FALL TO GRACE re-envisions the true nature of grace and what it means in everyday life. With disarming humility, poignant observations, and spot-on theology, Bakker challenges Christians to reassess their understanding of salvation and invites non-believers to see Jesus with fresh eyes.
About the Author
Jay Bakker is the son of Jim Bakker and the late Tammy Faye Messner, who ran the PTL television ministry until it came crashing down in the late 1980s amid accusations of an accounting-fraud scandal. At its height, it boasted 13 million viewers and a Christian resort. Bakker began his own ministry, called Revolution, in 1994. It now has plants in New York, Charlotte, and Atlanta.
Praise For Fall to Grace: A Revolution of God, Self & Society…
Praise for FALL TO GRACE:

Jay is right: a revolution is taking place. And it's a revolution of grace, affecting our view of God, our view of ourselves, and our view of neighbor, stranger, enemy, and outcast. As I read this honest and challenging book, I kept thinking, "Sign me up for the revolution!"

"With Fall to Grace, Jay Bakker has written just the book that Christians on both sides of our tragically polarized faith need to read. Relying on both his own personal experience and a thoughtful and theological reading of the New Testament, he reminds us of the very core of the gospel. And, in so doing, he challenges me to reconsider the Apostle Paul, the biblical writer with whom I most often wrestle. This book deserves a wide readership."

"A real eye-opener for Christians, non-Christians and-- perhaps especially-- Christians who would sometimes rather not call themselves that."
Advertisement