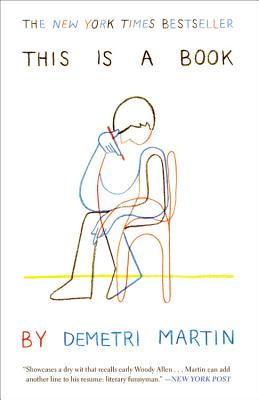 This Is a Book
Paperback

* Individual store prices may vary.
Other Editions of This Title:
Digital Audiobook (4/24/2011)
Hardcover (4/25/2011)
Hardcover (5/1/2011)
Description
From the renowned comedian, creator, star and executive producer/multiple title-holder of Comedy Central's Important Things with Demetri Martin comes a bold, original, and rectangular kind of humor book.

Demetri's first literary foray features longer-form essays and conceptual pieces (such as Protagonists' Hospital, a melodrama about the clinic doctors who treat only the flesh wounds and minor head scratches of Hollywood action heroes), as well as his trademark charts, doodles, drawings, one-liners, and lists (i.e., the world views of optimists, pessimists and contortionists), Martin's material is varied, but his unique voice and brilliant mind will keep readers in stitches from beginning to end.
Praise For This Is a Book…
"This book embodies the essence of Demetri's comedy to perfection, which is a good thing since he wrote it. Silly but incredibly smart, it's exactly what puts me in awe of his work."
-Will Ferrell—-

"When I first saw Important Things With Demetri Martin, I said to myself, "this is the funniest thing ever." I was wrong. This Is A Book is better." -Malcolm Gladwell, author of Outliers: The Story of Success—-

"This book is so funny I forgot to laugh. I know that sounds like a childish criticism, but I mean it literally: This book is so funny, I forgot a whole bunch of things--who I am, what I stand for, large chunks of my childhood, my sense of equilibrium, how to fall asleep, and when I'm supposed to laugh at things."-Chuck Klosterman—-

"Demetri Martin has a very funny and original mind. If I could draw a graph explaining how funny and original he is, I would. But I don't do that. Demetri does that."-Conan O'Brien—-

"Throughout, Martin jokes in many guises, silly one moment, barbed the next, and he achieves a satirical brilliance." -Publishers Weekly—-

"The best [material] would be at home in one of Woody Allen's classic books...Martin has energy to burn." -Kirkus—-
Grand Central Publishing, 9780446539692, 288pp.
Publication Date: April 10, 2012
About the Author
Demetri Martin rose to relative obscurity when he started doing stand-up comedy in New York City at the end of the 20th Century. Later he became a writer at Late Night with Conan O'Brien and then a regular performer on The Daily Show with Jon Stewart. In 2003, Demetri won the Perrier Award at the International Fringe Festival for his first one-man show, If I. He released a comedy album called These Are Jokes and then created and starred in his own television series called Important Things with Demetri Martin.

His first stand-up comedy special, Demetri Martin. Person is considered by many to be his longest and only hour-long stand-up comedy special. Martin has appeared in movies as an actor, most recently in Steven Soderbergh's Contagion and most lengthily in Ang Lee's Taking Woodstock. His first book, This Is a Book by Demetri Martin is a New York Times Bestseller. Demetri has brown hair, and he is allergic to peanuts. You can find him at www.demetrimartin.com, at www.facebook.com/demetrimartin, on Twitter @demetrimartin, and in various places in the actual physical world.