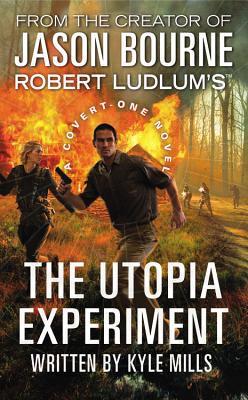 Robert Ludlum's (TM) The Utopia Experiment (Covert-One series #10) (Paperback)
Grand Central Publishing, 9780446539883, 560pp.
Publication Date: November 19, 2013
* Individual store prices may vary.
Description
With U.S. intelligence agencies wracked by internal power struggles and paralyzed by bureaucracy, the president has been forced to establish his own clandestine group--Covert-One. It's activated only as a last resort, when the threat is on a global scale and time is running out.
THE UTOPIA EXPERIMENT
When Dresner Industries unveils the Merge, a device that is destined to revolutionize the world and make the personal computer and smartphone obsolete, Covert-One operative Colonel Jon Smith is assigned to assess its military potential. He discovers that enhanced vision, real-time battlefield displays, unbreakable security, and near-perfect marksmanship are only the beginning of a technology that will change the face of warfare forever--and one that must be kept out of the hands of America's enemies at all costs.
Meanwhile, in the mountains of Afghanistan, CIA operative Randi Russell encounters an entire village of murdered Afghans--all equipped with enhanced Merge technology that even the Agency didn't know existed. As Smith and Russell delve into the circumstances surrounding the Afghans' deaths, they're quickly blocked by someone who seems to have access to the highest levels of the military--a person that even the president knows nothing about.
Is the Merge really as secure as its creator claims? And what secrets about its development is the Pentagon so desperate to hide? Smith and Russell are determined to learn the truth. But they may pay for it with their lives . . .

About the Author
KYLE MILLS is a
New York Times
bestselling author of over 10 novels including
Rising Phoenix
and
Lords of Corruption
. He lives with his wife in Jackson Hole, Wyoming where they spend their off-hours skiing, rock climbing, and mountain biking.
ROBERT LUDLUM was the author of twenty-seven novels, each one a
New York Times
bestseller. There are more than 225 million of his books in print, and they have been translated into thirty-two languages. He is the author of
The Scarlatti Inheritance
,
The Chancellor Manuscript
, and the Jason Bourne series--
The Bourne Identity
,
The Bourne Supremacy
, and
The Bourne Ultimatum
--among others. Mr. Ludlum passed away in March 2001. To learn more, visit
www.Robert-Ludlum.com
.
Praise For Robert Ludlum's (TM) The Utopia Experiment (Covert-One series #10)…
"Freveletti turbocharges tension to nonstop levels in this Covert-One thriller."—Kirkus Reviews on The Janus Reprisal

"Fast-paced and action-filled, with iconic characters and contemporary themes . . . Fans of Ludlum . . . thrillers will find The Ares Decision right on target."—Fredericksburg Free Lance-Star on The Ares Decision

"A tight and tense pageturner."—Booklist on The Ares Decision

"Fast-paced, exciting . . . a winner."—Booklist on The Arctic Event

"The cinematic chase through changing landscapes and mounting body count gives the book its rapid pace, while insider politics, tradecraft, and technical wizardry lend an extra kick."—Publishers Weekly on The Cassandra Compact

"Packed with all the classic Ludlum elements . . . the intricately engineered plot thunders forward at breakneck pace. Bottom line: Perfectly executed."—People on The Altman Code
or
Not Currently Available for Direct Purchase