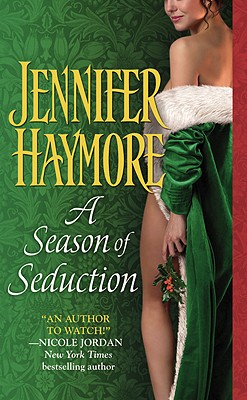 A Season of Seduction (James Family #3)
Mass Market

* Individual store prices may vary.
Description
Although the widowed Lady Rebecca has sworn off marriage, men are another matter. London's cold winter nights have her dreaming of warmer pursuits-like finding a lover to satisfy her hungry heart. Someone handsome, discreet, and most importantly as uninterested in marriage as she is. Someone like Jack Fulton.

A known adventurer and playboy, Jack seems like the perfect choice. There's just one problem: Jack isn't interested in an affair. He needs the beautiful, mysterious Lady Rebecca to be his wife. And he doesn't have much time to persuade her. A secret from Jack's past is about to surface, and by Christmas Day he'll be either married to Rebecca or dead.
Praise For A Season of Seduction (James Family #3)…
PRAISE FOR
USA TODAY
BESTSELLING AUTHOR JENNIFER HAYMORE: "Each time Ms. Haymore writes a book in this series I think there is no way to top the one I just finished. I started this latest one and realize she has done just that and has proven to me how fresh this series can remain. The characters of Becky and Jack are so full of life and longing just trying to make the right connection between family, relationship and future happiness while figuring out who to trust with all their secrets. This is a wonderful story and while I recommend reading the 1st two it is not imperative as Jennifer Haymore is a magician at connecting the plot from one book to the next-- but trust me you will have to buy the first two, they are that good."—
The Reading Reviewer (www.marygramlich.com)
"41/2 Stars! Haymore uses the Christmas season as an enhancing backdrop for a mystery/romance that is both original and fulfilling. Her fresh voice & ability to build sensual tension into lively love stories...makes this tale shine."
—
RT Book Reviews
"Ms. Haymore has penned a fabulous story of seduction, romance, intrigue and betrayal and above all that - love. You don't want to miss it! I'm now a big fan of this new author and she is going on my automatic to buy list! I love her writing style and the complex plots that she has weaved so beautifully together....The characters are amazing and the story will tug at your heart strings. So if you love a great read, do go and get this series, you will be glad that you did!"
—
sapphireromance.blogspot.com
"A SEASON OF SEDUCTION is an engaging historical tale-it all begins with seduction and turns to love, but can Jack redeem himself? You can expect some sizzling scenes as the two protagonists get together, but is there any way the sizzle can last with Jack's treachery? Suffice to say, the road to love can get somewhat bumpy, but it is an entertaining story that readers will enjoy."
—
Marilyn Heyman
,
Romance Reviews Today
"Jennifer Haymore strikes a good balance of strength, sensuality, drama and intrigue in her characters...Becky is an independent, fearless woman except when it comes to opening her heart to another man. And Jack, while strong and passionate, shows great sensitivity under his 'rogue' persona. With enduring characters that exhibit strong chemistry, I very much enjoyed Ms. Haymore's unique, engaging style and look forward to reading the other books that are a part of this series."
—
www.fictionvixen.com
"Sweep-you-off-your-feet historical romance! Jennifer Haymore sparkles!"
—
New York Times bestselling author Liz Carlyle on A TOUCH OF SCANDAL
"Jennifer Haymore's books are sophisticated, deeply sensual, and emotionally complex. With a dead sexy hero, a sweetly practical heroine, and a love story that draws together two people from vastly different backgrounds, A TOUCH OF SCANDAL is positively captivating!"
—
Elizabeth Hoyt, New York Times bestselling author on A TOUCH OF SCANDAL
"Ms. Haymore's talent for storytelling shines throughout this book."
—
Eye on Romance
,
-
"Haymore discovers a second fascinating, powerful and sensual novel that places her high on the must-read lists. She perfectly blends a strong plot that twists like a serpent and has unforgettable characters to create a book readers will remember and re-read."
—
RT BOOK Reviews
"A deliciously emotional
Cinderella
tale of two people from backgrounds worlds apart,
A Touch of Scandal
addicts the reader from the first page and doesn't let go until the very last word. Hurdle after hurdle stand in the way of Kate and Garrett's love, inexorably pulling the reader along, supporting them each step of the way.
A Touch of Scandal
is a surefire win!"—
FallenAngelreviews.com
Haymore writes a clever novel with a well-rounded cast of characters both major and minor while offering her readers a charming, intelligent, and wounded heroine in Lady Rebecca. While reading
A Season of Seduction
I found myself unable to set the book down, as I needed to know what was going to occur next. Haymore has crafted a clever plot with enough surprise twists to keep the reader thoroughly engaged as well as mesmerized by 19th century London and the numerous secrets to be unveiled throughout the novel. I would recommend
A Season of Seduction
to all readers as it has a bit of something for everyone and a rather enjoyable way to begin thinking of the holiday season.—
rundpinne.com
Forever, 9780446540285, 416pp.
Publication Date: October 1, 2010
About the Author
As a child, Jennifer Haymore traveled the South Pacific with her family on their homebuilt sailboat. The months spent on the sometimes quiet, sometimes raging seas sparked her love of adventure and grand romance. Since then, she's earned degrees in computer science and education and held various jobs ranging from bookselling to teaching inner-city children to acting, but she's never stopped writing.

You can find Jennifer in Southern California trying to talk her husband into yet another trip to England, helping her three children with homework while brainstorming a new five-minute dinner menu, or crouched in a corner of the local bookstore writing her next novel.

You can learn more at:
JenniferHaymore.com
Twitter @JenniferHaymore
Facebook.com/JenniferHaymore.Author
or
Not Currently Available for Direct Purchase