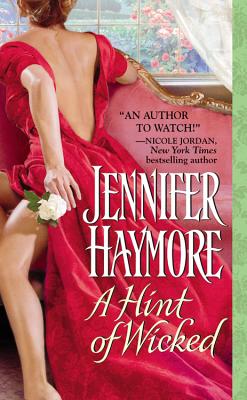 A Hint of Wicked (James Family #1)
Mass Market

* Individual store prices may vary.
Description
CAUGHT BETWEEN DUTY AND DESIRE . . .

Sophie, the Duchess of Calton, has finally moved on. After seven years mourning the loss of her husband, Garrett, at Waterloo, she has married his cousin and heir, Tristan. Sophie gives herself to him body and soul. . . until the day Garrett returns from the Continent, demanding his title, his lands-and his wife.

TORN BETWEEN TWO HUSBANDS . . .

Now Sophie must choose between her first love and her new love, knowing that no matter what, her choice will destroy one of the men she adores. Will it be Garrett, her childhood sweetheart, whose loss nearly destroyed her once already? Or will it be Tristan, beloved friend turned lover, who supported her through the last, dark years and introduced her to a passion she had never known? As her two husbands battle for her heart, Sophie finds herself immersed in a dangerous game-where the stakes are not only love . . . but life and death.

A HINT OF WICKED
Praise For A Hint of Wicked (James Family #1)…
PRAISE FOR USA TODAY BESTSELLING AUTHOR JENNIFER HAYMORE: "Jennifer Haymore is an up-and-coming new writer who displays a skilful touch in her erotic tale of a woman torn between two lovers."—Shirlee Busbee, New York Times bestselling author of SEDUCTION BECOMES HER

"A unique, heart-tugging story with sympathetic, larger-than-life characters, intriguing plot twists, and sensual love scenes make A HINT OF WICKED an impressive romance debut! I was rooting for both Tristan and Garret to win the lovely Sophie's hand for a second time. For jaded romance readers, Jennifer Haymore is an author to watch!"—New York Times best-selling author Nicole Jordan

"What an extraordinary book this is! Never expected it to be so special. The ending especially so as you learn another will follow this one. What a future this author has! Don't miss reading this one."—Romance Reviews Magazine

"A Hint of Wicked is amazing... one of the best historical romances I have read this year."—Fallen Angel Reviews

"Complex, stirring, and written with a skillful hand, A HINT OF WICKED is an evocative love story that will make a special place for itself in your heart."—Romance Reviews Today

"HINT OF WICKED is an exhilarating regency romance!"—Harriet Klausner

"A Hint of Wicked is powerfully passionate and perfectly poignant tale of love and redemption."—www.ReaderToReader.com

"Ms. Haymore's talent for storytelling shines throughout this book. She paints a picture of three friends who find themselves in a situation not of their own creation, but one that quickly becomes public knowledge and harms their friendship. The reader comes to know these characters-their faults and strengths. I would be surprised if anyone reading it didn't have a strong opinion about who Sophie should end up with and which marriage should be considered the "real" one. I had to keep reading to see what would happen. You will have to wait until the very end of the book to find out whom Sophie remains with and just how these three people work everything out. I loved that about this book. It kept me reading and makes me want to read the next book just to see what happens next. I will definitely be looking for the sequel."—Eye on Romance
Forever, 9780446540292, 432pp.
Publication Date: June 1, 2009
About the Author
As a child, Jennifer Haymore traveled the South Pacific with her family on their homebuilt sailboat. The months spent on the sometimes quiet, sometimes raging seas sparked her love of adventure and grand romance. Since then, she's earned degrees in computer science and education and held various jobs ranging from bookselling to teaching inner-city children to acting, but she's never stopped writing.

You can find Jennifer in Southern California trying to talk her husband into yet another trip to England, helping her three children with homework while brainstorming a new five-minute dinner menu, or crouched in a corner of the local bookstore writing her next novel.

You can learn more at:
JenniferHaymore.com
Twitter @JenniferHaymore
Facebook.com/JenniferHaymore.Author
or
Not Currently Available for Direct Purchase