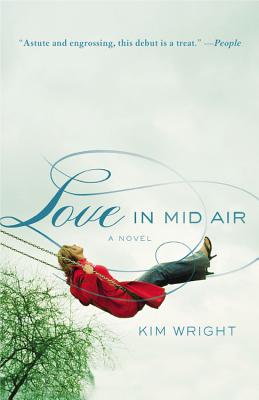 Love in Mid Air (Paperback)
Grand Central Publishing, 9780446540438, 320pp.
Publication Date: July 14, 2011
* Individual store prices may vary.
Description
A chance encounter with a stranger on an airplane sends Elyse Bearden into an emotional tailspin. Suddenly Elyse is willing to risk everything: her safe but stale marriage, her seemingly perfect life in an affluent Southern suburb, and her position in the community. She finds herself cutting through all the instincts that say "no" and instead lets "yes" happen. As Elyse embarks on a risky affair, her longtime friend Kelly and the other women in their book club begin to question their own decisions about love, sex, marriage, and freedom. There are consequences for Elyse, her family, and her circle of close friends, all of whom have an investment in her life continuing as normal. But is normal what she really wants after all? In the end it will take an extraordinary leap of faith for Elyse to find--and follow--her own path to happiness.

An intelligent, sexy, absorbing tale and an honest look at modern-day marriage, Love in Mid Air offers the experience of what it's like to change the course of one's own destiny when finding oneself caught in mid air.
About the Author
Kim Wright has been writing about travel, food, and wine for more than twenty years for many magazines including Wine Spectator, Self, Travel & Leisure, and Vogue, and has twice won the Lowell Thomas Award for travel writing. She is the food and wine editor for Charlotte Taste. She has written the annual Fodor's Walt Disney World with Kids for 18 years and also writes erotica. This is her first novel. Kim lives in Charlotte, NC.
Praise For Love in Mid Air…
"3 ¿ stars. Astute and engrossing, this debut is a treat."—People

"Sharply written and emotionally accessible. A modern take on adultery that does not shy away from the costs--and benefits--of a post-marriage life."—Kirkus

"An engaging account of a woman contemplating divorce. Though this story is one that readers may have seen before, Wright delivers fresh perspective and sympathetic characters few writers can match."—Publishers Weekly, starred review

"An intense, thoughtful novel about love and friendship, or the lack thereof, in a marriage."—Booklist

"LOVE IN MID AIR is a breath of fresh air for readers. It's a candid, often painfully funny look at modern love and friendship, with some surprising twists and turns along the way. A book to savor--and then share with your best friend."—Susan Wiggs, author of The Summer Hideaway

"Funny, sexy, heartbreaking, wise. Love in Mid Air is the kind of novel you will stay up late for. I read the first page and was hooked, I couldn't put it down. It is not simply the story of a divorce, the story of an affair, the story of one woman caught between two men; it is a delicate exploration of the pull that almost every woman will feel at some point in her life for the unhindered freedom of 'something more."—Dawn Clifton Tripp, author of Season of Open Water