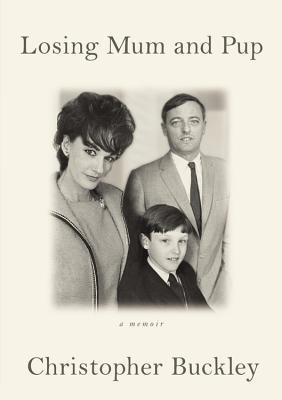 Losing Mum and Pup: A Memoir (Hardcover)
A Memoir
Twelve, 9780446540940, 272pp.
Publication Date: May 1, 2009
* Individual store prices may vary.
or
Not Currently Available for Direct Purchase
Description
In twelve months between 2007 and 2008, Christopher Buckley coped with the passing of his father, William F. Buckley, the father of the modern conservative movement, and his mother, Patricia Taylor Buckley, one of New York's most glamorous and colorful socialites. He was their only child and their relationship was close and complicated. Writes Buckley: "They were not - with respect to every other set of loving, wonderful parents in the world - your typical mom and dad."
As Buckley tells the story of their final year together, he takes readers on a surprisingly entertaining tour through hospitals, funeral homes, and memorial services, capturing the heartbreaking and disorienting feeling of becoming a 55-year-old orphan. Buckley maintains his sense of humor by recalling the words of Oscar Wilde: "To lose one parent may be regarded as a misfortune. To lose both looks like carelessness."
Just as Calvin Trillin and Joan Didion gave readers solace and insight into the experience of losing a spouse, Christopher Buckley offers consolation, wit, and warmth to those coping with the death of a parent, while telling a unique personal story of life with legends.
About the Author
Christopher Buckley is the author of fourteen books, including Supreme Courtship, Boomsday, and Thank You For Smoking. He is editor-at-large of ForbesLife magazine, and was awarded the Thurber Prize for American Humor and the Washington Irving Medal for Literary Excellence. He lives on the Acela train between Washington, D.C. and New York City.
Praise For Losing Mum and Pup: A Memoir…
"One of the funniest writers in the English language."
-Tom Wolfe

"Read LOSING MUM AND PUP and you'll realize it would have been a mortal sin to have not written this book . . . Because he can write, because he cared and was perhaps driven to it, Christopher Buckley has given us-- and the ages-- something of his parents. Read his book and you sense truly that you know them."
-Chris Matthews

"Christopher Buckley's Losing Mum and Pup appears like a cheerful beacon . . . Buckley's remembrance of his famous folks is refreshingly different . . . What you remember from Losing Mum and Pup aren't the sad endings; you end Losing Mum and Pup dazzled by the Buckleys as people."
-USA Today

"LOSING MUM AND PUP is a subtle, fond, and, above all, honest chronicle of his celebrated parents. This is an important work, at once unsparing and gracious-and that is no small achievement . . . The anecdotes are rich and numerous . . . Buckley has pulled off what eludes many writers: he has written candidly but not unkindly about people whose vices and virtues he sees clearly."
-Newsweek

"Smartly written... an improbably funny book that will hit home hard... Read it and chortle. Read it and weep."
-New York Times

"Dazzlingly written."
-National Review

"Intense, beautifully written and often achingly personal . . . One suspects that somewhere, beyond all this, Bill and Pat Buckley are very proud of their son."
-Washington Times

"The memoir is loving, exasperated and very funny. In its moments of real ambivalence, LOSING MUM AND PUP is surprisingly strong drink... [Pat Buckley] remains glamorous even when she's impossible... The writing, like the book's subjects, is generally top-drawer. To take but one example: "the elder George Bush "may be New England Yankee blue blood, but he has the tear ducts of a Sicilian grandmother." The yield of such lines is exceptionally high, and it's fair to say that the particular talent required to produce them is one of the few that William F. Buckley lacked. [Christopher Buckley's] own considerable accomplishment is to have emerged from two large colorful shadows as very much his own writer and very much his own man."
-New York Times Review of Books

"There are also many touching moments . . . what's become clear is that the book, for all its hype-oriented excerpts, is really much more akin to Joan Didion's The Year of Magical Thinking than to any of Chris Buckley's own biting and wry prose. And the best evidence that it will do well is that each time one of these damn segments comes out, even if they're all a repeat, we just keep reading them."
-New York Magazine

"Satirist Christopher Buckley writes honestly and with touching humor about the recent passing of his legendary parents."
-Elle

"With characteristic asperity and immeasurable tenderness, Christopher Buckley mourns his legendary parents."
-Vogue

"Whether or not your parents are Pat and William F. Buckley, it's wrenching to say goodbye . . . LOSING MUM AND PUP is emphatically as billed: occasionally about family life but mostly a sad, intermittently angry and ambivalent chronicle of illness, decline and bereavement . . . wonderful detail . . . This was not the book Christopher Buckley was meant to write. But it's the one he had to, and that gives it great punch."
-Town and Country
Advertisement