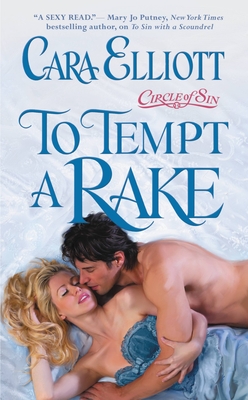 To Tempt a Rake (Mass Market Paperbound)
Forever, 9780446541305, 370pp.
Publication Date: February 1, 2011
* Individual store prices may vary.
or
Not Currently Available for Direct Purchase
Description
Kate Woodbridge has spent most of her life sailing to exotic ports around the globe, acquiring an expertise in botany, along with a few less ladylike skills. So when a deathbed promise to her parents brings her to London to seek reconciliation with her grandfather, the imperious Duke of Cluyne, she feels like a fish out of water. Her outspoken views and fiery temper tend to set off sparks in Society-especially with the rakish Conte of Como.
A devil-may-care rogue, Marco finds the alluring and mysterious Kate a tempting target for his flirtations. But when murder strikes at the duke's country house party he begins to suspect that she's hiding a dark secret. He has his own clandestine reasons for offering to help her prove her innocence . . . And so begins a journey of dangerous deception that leads from England to the glittering ballrooms of Vienna, where Marco and Kate must duel with a deadly villain . . . and their own explosive attraction.

About the Author
Cara Elliott started writing Western novels at the age of five. Later she changed her genre to Regency romance after reading Pride and Prejudice. She graduated from Yale University, and she now lives and works in New York City.
Praise For To Tempt a Rake…
Raves for To Tempt A Rake:

"From the first page of this sequel to To Sin With A Scoundrel and To Surrender To A Rogue, Elliott sweeps her readers up in a scintillating and sexy romance between Katharine...and Comte Giovanni. ... Heated passions come to a boil."
-Publilshers Weekly

Rave for To Tempt A Rake:

"Elliott expertly sifts a generous measure of dangerous intrigue into the plot of her latest impeccably crafted Regency historical, which should prove all too tempting to readers with a craving for deliciously clever, wickedly sexy romances."
-Booklist

For To Tempt a Rake:

"Blue Ribbon Rating! The third installment of the wickedly scrumptious CIRCLE OF SIN series...breaks the mold. ...a uniquely entertaining, heart stopping read. Nothing is sexier than a sinfully handsome, arrogant...libertine that hides behind the ain of a traumatic past. Kate is a decidedly fun and one-of-a-kind female protagonist.....It's that good."
-romancejunkiesreviews.com

For To Tempt A Rake:

"3 STARS ! A very good story and well worth your time to enjoy. This author remains one of my favorite romance writers about the Regency era."
-Huntress Reviews

For To Surrender to a Rogue:

"4 Stars -- HOT ! Elliott's ability to merge adventure, romance and an intriguing historical backdrop will captivate her readers and earn their accolades."
-rtbookreviews.com

For To Surrender to a Rogue:

"Ms. Elliott's amazing gift of bringing her characters to life makes this reader crave for more. With mystery, intrigue, laughter and hot steamy passion...what more could any reader want???"
-theromancereadersconnection.com

For To Surrender to a Rogue:

"The second book in the CIRCLE OF SIN series...is simply magnificent. The characters experience real growth. James and Alessandra fight like cats and dogs, ...but the passion between these two could set something on fire."
-romancejunkiesreviews.com

For To Surrender to a Rogue:

"4 Stars! Sensuality Level: 3 1/2 Hearts! An astoundingly fresh, sexy historical....witty dialogue, vivid settings...the thrilling tale of Lady Alessandra della Giamatti and Lord James "Black Jack" Pierson....Ms. Elliott has another refereshing regency on her hands with this one. It's interesting, fast-paced and very believable."
-wewriteromance.com

Raves for To Sin With A Scoundrel:

"In this nicely steamy debut, ...the romance is well drawn and intriguing."

For To Sin With A Scoundrel:

"A well-constructed novel of relationships and suspense. Great character development, plentiful dialogue often touched with humor, spicy sexual tension, and exciting plotlines combine to make it a winner."
-Romance Reviews Today

On To Sin With A Scoundrel:

"The first in the Circle of Sin series by talented author Cara Elliott...this story had everything a reader could desire in a book, adventure, humor, mystery, romance, and a very naughty rake."

On To Sin With A Scoundrel:

"4 1/2 stars! Author Cara Elliott has created a magnificently compelling read! She has paired a scholar and a scoundrel...and I had a wonderful time watching the chemistry of these two characters mix."
-Huntress Book Reviews, huntressreviews.com

On To Sin With A Scoundrel:

"Cara Elliott's scorching hot debut...has created a captivating world that makes you feel as if you yourself are close friends with all of her characters."
-theromancereadersconnection.com
Advertisement