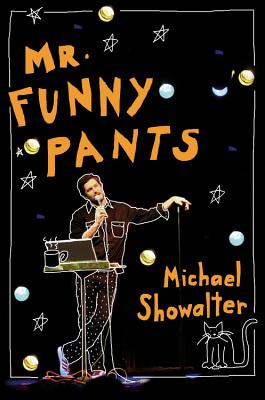 Mr. Funny Pants (Hardcover)
Grand Central Publishing, 9780446542104, 288pp.
Publication Date: February 1, 2011
Other Editions of This Title:
Digital Audiobook (2/21/2011)
Paperback (2/10/2012)
* Individual store prices may vary.
Description
I was at my wit's end. I'd had enough of this job, this life, and my relationship had broken up. Should I eat chocolate, or go to India, or fall in love? Then I had a revelation: Why not do all three, in that order? And so it was that I embarked on a journey that was segmented into three parts and was then made into a major motion picture. Later, I woke up on an airplane with a hole in my face and a really bad hangover. I was ushered brusquely off the plane by my parents who took me to a rehab where I tested positive for coke, classic coke, special k (the drug), Special K (the cereal), mushrooms, pepperoni, and Restless Leg Syndrome. It was there that I first began painting with my feet.

But rewind...the year was 1914. I was just a young German soldier serving in the trenches while simultaneously trying to destroy an evil ring with some help from an elf, a troll, and a giant sorcerer, all while cooking every recipe out of a Julia Child cookbook. What I'm trying to say is that there was a secret code hidden in a painting and I was looking for it with this girl who had a tattoo of a dragon! Let me clarify, it was the 1930s and a bunch of us were migrating out of Oklahoma, and I was this teenage wizard/CIA operative, okay? And, um then I floated off into the meta-verse as a ball of invisible energy that had no outer edge...

Ugh, okay. None of this is true. I'm just kind of a normal guy from New Jersey who moved to New York, got into comedy, wrote this book about trying to write this book, and then moved to Alaska, became the mayor of a small town, spent $30,000 on underwear, and now I'm going to rule the world!!!
About the Author
Michael Showalter is the star/creator of "Michael & Michael Have Issues," "The State, Wet Hot American Summer, The Baxter, Stella, "Die Hard* and Die Hard 2: Die Harder**. He lives in Brooklyn with his lady and a bunch of cats.

"*Not true

""**Also not true"
Praise For Mr. Funny Pants…
"Showalter is a comic genius. This is, cover to cover, the funniest book I've ever read!"
(Dear Mike, Haven't had time to check it out yet. Do you want to just write a quote and put my name on it? Best, Ben) --Ben Stiller

"Here's the deal: I think Michael Showalter is a genius. And I don't use that term lightly. This book is brave, merciless, and soulful and I think that by that I actually mean stupid, smart and very funny (I mostly just wanted to use the word "merciless" in a sentence.) If you see it on a friend's shelf do yourself a favor and just take it. Not the shelf. Just the book. Unless of course you need a shelf. Merciless!!!" --Paul Rudd

"I read Michael's book on a train. It was funny and engaging. I also once took a train with Michael. I wish that Michael, as a passenger sitting next to me, was as funny and engaging as his book was." --Janeane Garofalo

"Procrastination in written form. This book, like all great works, is honest, absurd and absolutely pointless." --Amy Poehler

"With MR. FUNNY PANTS, Showalter deconstructs books down to their core, then builds them back up into a swirling core-nado. Which is a tornado made out of book cores. It's not a real thing. This book is funny." --Andy Samberg, Akiva Schaffer, and Jorma Taccone of SNL & The Lonely Island

"Showalter, Michael has written a very clever book. And he has written about writing a book, cleverly. Showalter, Michael asked me to write a blurb. It was easy to do-here it is: 'I very much really really liked this Mr. Funny Pants-a book so enjoyable that blurbing about it is so very easy.'" --Zach Galifianakis

"MR. FUNNY PANTS is unlike any book I've ever read. It's this weird, hilarious, choose-your-own-adventure inside Michael Showalter's brain-which is, of course, brilliant. I was at first skeptical of the premise of deconstructing the process of writing a book, but 10 pages in, I was literally crying with laughter and by the time he got to analyzing his own high school poetry, I could no longer read the book in public without embarrassing myself."--Mike Birbiglia, New York Times bestselling author of Sleepwalk With Me

"Michael Showalter: amusing trousers, singular mind." --Sarah Vowell, New York Times bestselling author of The Wordy Shipmates

"With MR. FUNNY PANTS by Michael Showalter, the meta-enterprise of the [comedian memoir] genre achieves full wax-bouquet bloom." --James Wolcott, Vanity Fair
or
Not Currently Available for Direct Purchase