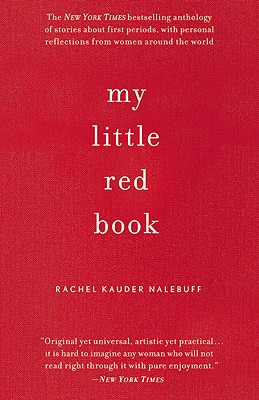 My Little Red Book
Hardcover

* Individual store prices may vary.
Description
My Little Red Book is an anthology of stories about first periods, collected from women of all ages from around the world. The accounts range from light-hearted (the editor got hers while water skiing in a yellow bathing suit) to heart-stopping (a first period discovered just as one girl was about to be strip-searched by the Nazis). The contributors include well-known women writers (Meg Cabot, Erica Jong, Gloria Steinem, Cecily von Ziegesar), alongside today's teens. And while the authors differ in race, faith, or cultural background, their stories share a common bond: they are all accessible, deeply honest, and highly informative. Whatever a girl experiences or expects, she'll find stories that speak to her thoughts and feelings.

Ultimately, My Little Red Book is more than a collection of stories. It is a call for a change in attitude, for a new way of seeing periods. In a time when the taboo around menstruation seems to be one of the few left standing, it makes a difficult subject easier to talk about, and helps girls feel proud instead of embarrassed or ashamed. By revealing what it feels like to undergo this experience first hand, and giving women the chance to explain their feelings in their own words, it aims to provide support, entertainment, and a starting point for discussion for mothers and daughters everywhere. It is a book every girl should have. Period.
Praise For My Little Red Book…
Beginning with its perfect title, an inspired idea, expertly executed: Period.
—
Howard Gardner, Professor of Cognition and Education, Harvard University, and author of Multiple Intelligences
"
Seldom can a book stretch to accommodate both its author's and its publisher's fondest hopes: that it be original yet universal, artistic yet practical, and likely to sell briskly for centuries to come
... It is hard to imagine any woman, from the most straitlaced and body-denying to the most uninhibited and body-embracing, who will not read right through it with pure enjoyment, small flashes of recognition and the urge to buy it for every female preteen in sight... Most pieces are a few crisp paragraphs that manage to avoid both the chirpy "You are a woman now" song of the Tampax box and the lugubrious musings on blood, moons and fertility of the feminist academic...
The book's great beauty
is that these themes are left unexplored. No one draws a moral (see, everyone thinks she's different!), or offers up the poet's lament that all life's landmarks spell a step to death. The reader is left alone to absorb it all in privacy."—
Abigail Zuger, MD
,
The New York Times
"Silence about the healthiest of things can make them seem shameful.
My Little Red Book
turns shame into celebration."—
Gloria Steinem
"Some girls dread their periods, some girls crave them, some girls think they're not normal until they get their periods, and some fear they're abnormal when they do get them. MY LITTLE RED BOOK takes a little of that mystery away, replacing it with humor and information - not just about tampons, but also about how girls in Kenya, New Zealand, Brooklyn, and Oklahoma reacted to their first visit from Aunt Flo. The book would make a good addition to a first-period kit."—
Jezebel.com
"Western readers will find the global perspectives eye-opening... The authors' candor and accessibility and the extensive appended resource sections make this an obvious choice for teens... A rich, welcome collection for readers of various ages and, perhaps surprisingly, more than one gender."—
Booklist
Twelve, 9780446546362, 240pp.
Publication Date: February 26, 2009
About the Author
Rachel Kauder-Nalebuff is a graduate of Choate Rosemary Hall and attended Yale University. In Choate's annual Pratt-Packard oratory contest, she adapted her own first-period experience and other stories from My Little Red Book to an audience of 1,000 classmates: "This is a speech about first periods, and I don't mean your 8:00 AM class," the speech began. The inspiration to begin collecting first period stories arose out of a conversation with her mother.
or
Not Currently Available for Direct Purchase