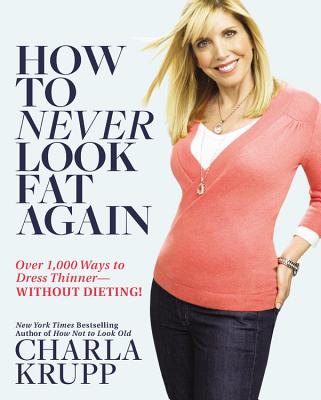 How to Never Look Fat Again: Over 1,000 Ways to Dress Thinner--Without Dieting! (Hardcover)
Over 1,000 Ways to Dress Thinner--Without Dieting!
Grand Central Life & Style, 9780446547475, 264pp.
Publication Date: March 1, 2010
* Individual store prices may vary.
or
Not Currently Available for Direct Purchase
Description
The new groundbreaking style-guide from bestseller author Charla Krupp on how to look 10 pounds lighter, 10 years younger and 10 times sexier every day, all year--in summer, winter, at the gym, even in a swimsuit
You'll never get dressed the same way again once you discover:
*smart, easy ways to hide arm flap, a big bust, a muffin top, back fat, Buddha belly, a big booty, wide hips, thunder thighs, and heavy calves-and that's only half the book.
*which fabrics, colors, and styles make women look fat
*absolutely the best shades, shapes, and brilliant buys to make the pounds invisible
*clever solutions for special fashion situations--workout gear, evening wear, and even swimsuits
*which products, fashions, and services you shouldn't waste your money on
*the top ten tips that will make you look thinner by tonight
So, if you've ever put on a piece of clothing and asked "Does this make me look fat?" Finally, here is the book that will answer your question.
About the Author
Charla krupp has appeared for ten years on the Today show and on more than thirty national TV shows including The Oprah Winfrey Show, The View, Tyra, CBS Early Show, Entertainment Tonight, and Access Hollywood. She is a contributing editor to People: Style Watch, and was formerly beauty director at Glamour, senior editor at InStyle, and contributing editor at More.
Praise For How to Never Look Fat Again: Over 1,000 Ways to Dress Thinner--Without Dieting!…
"Ms. Krupp's mission is to consider every possible roll, bump and curve of the body and propose ways to minimize it, distract from it, or make it disappear with artful dressing. There is a voyeuristic thrill to reading even sections that don't apply to your own body type."
-Chrsitina Binkley, Wall Street Journal

"Consider the mystery of looking great in clothes solved."
-Redbook

"..The book is a bible for creating optical illusions with correct garment choices...Any woman can benefit."
-San Francisco Chronicle

"about as impossible to resist as chocolate."
-Orlando Sentinel

"In her new book, "How to Never Look Fat Again,'' she compiles easy, smart, and chic tips on how women can look thinner without spending endless hours at the gym. She guarantees her fashion secrets will help you by tonight."
-The Boston Globe
Book Videos
Advertisement