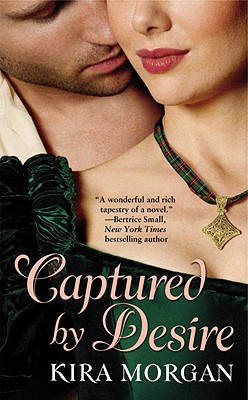 Captured by Desire (Mass Market)
Forever, 9780446548182, 384pp.
Publication Date: August 1, 2010
* Individual store prices may vary.
Description
Young Florie Gilder has always known that her biological father is a noble--her only evidence an heirloom gold belt. Living as a commoner, she earns her keep as apprentice-jewelry-designer in her foster-father's goldsmithing shop. Secretly hoping to find her real father, she offers to sell the goldsmith's wares in the town of her birth--at the Selkirk Fair. With her heirloom gold belt on display, she hopes it will be recognized by her real father.

Leaving her booth at the Fair to take a moment's respite, Florie returns to find that a Lady Mavis Fraser of the Scottish court bought the gold belt (Mavis knows that her husband Lord Fraser would instantly recognize the belt as the link to the whereabouts of his illegitimate daughter whom he seeks to be reunited with, but such a reunion would foil Mavis's claim to her husband's estate). Florie, pursuing Lady Mavis, gives her back her money, wrests back the belt, and flees into the forest. Claiming Florie stole it from her, Mavis makes the authorities promise to find and execute Florie. Meanwhile, Rane MacAllister,a local hunter in the forest, mistakes the hiding Florie for a deer, wounding her with an arrow. He carries her to a local church where she will be guaranteed 40 days of sanctuary. When Lady Mavis hears the church has Florie, she commands Rane to guard her, but in the process he falls in love with her. Lady Mavis sets fire to the church, hoping to kill Florie, but Florie escapes. Rane's penalty for letting her escape will be death. At the eleventh hour, Florie returns, and must decide which she wants more--Rane's life, or her noble lineage...


About the Author
Kira Morgan is a third-generation California girl who is an avid traveler, the wife of a rock star, the mother of two fascinating children, and the beloved master of a pug named Worf.
Praise For Captured by Desire…
Starred review from Publishers Weekly for Seduced by Destiny:

"Morgan follows 2010's Captured by Desire with a delightful romance set in 16th-century Scotland....Readers weary of Scottish romance cliches will be thrilled to see these cheeky commoners trading blows and puns far away from drafty castles."
—Publishers Weekly

"A wonderful and rich tapestry of a novel."—Bertrice Small, New York Times bestselling-author

"A rich, sensual, pull-at-the-heartstrings romance."—Monica McCarty, New York Times bestselling author

"A finely crafted tale...a satisfying read."—Jennifer Ashley, USA Today bestselling-author

Raves for Captured by Desire:

"...A seductive blend of romance, excitement, and intrigue with a dose of humor thrown in. With interesting characters that grab the reader's attention and a storyline that demands each page eagerly [be] turned, this is a must read for fans of historical romance. Robin Hood move over, Rane MacAllister is the new archer in town."

Score: 4 out of 5 points!—www.nightowlreviews.com

"Highly dramatic and very exciting....Loved the story"—www.romancereviewsmag.com

"Ever so sensual and emotional....the story is solid and very romantic."—yankeeromancereviewers.blogspot.com

FIVE STARS ! "...An entertaining fast-paced sixteenth century historical romance....Historical readers will enjoy this exciting twisting tale as love arrives when you least expect it."—Harriet Klausner, barnesandnoble.com/Captured-by-Desire/Kira-Morgan

"It takes a good writer to take the reader to a place and time and have them feel as if they are there with the characters, and Ms. Morgan does just that with ease and entertainment."—The Reading Reviewer, www.marygramlich.com

Rated "8" -- VERY GOOD!

Heat Level: Rated "4" -- HOT !—www.TheSeasonForRomance.com
Book Videos
or
Not Currently Available for Direct Purchase