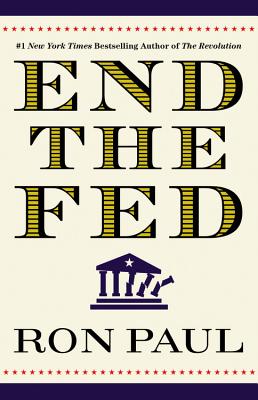 End The Fed (Paperback)
Grand Central Publishing, 9780446549172, 224pp.
Publication Date: September 29, 2010
Other Editions of This Title:
Digital Audiobook (9/15/2009)
Paperback, Large Print (9/16/2009)
Hardcover (9/16/2009)
CD-Audio (9/16/2009)
* Individual store prices may vary.
Description
A provocative and controversial treatise that argues we cannot actually fix the broken economy without discussing the 800-lb gorilla in the room: the Federal Reserve.

Most people think of the Fed as an indispensable institution without which the country's economy could not properly function. But in End the Fed, Ron Paul draws on American history, economics, and fascinating stories from his own long political life to argue that the Fed is both corrupt and unconstitutional. It is inflating currency today at nearly a Weimar or Zimbabwe level, a practice that threatens to put us into an inflationary depression where $100 bills are worthless. What most people don't realize is that the Fed -- created by the Morgans and Rockefellers at a private club off the coast of Georgia -- is actually working against their own personal interests. Congressman Paul's urgent appeal to all citizens and officials tells us where we went wrong and what we need to do fix America's economic policy for future generations.

About the Author
Ron Paul, an eleven-term congressman from
Texas
, is the leading advocate of freedom in our nation's capital. He has devoted his political career to the defense of individual liberty, sound money, and a non-interventionist foreign policy. Judge Andrew Napolitano calls him "the Thomas Jefferson of our day."
After serving as a flight surgeon in the U.S. Air Force in the 1960s, Dr. Paul moved to
Texas
to begin a civilian medical practice, delivering over four thousand babies in his career as an obstetrician. He served in Congress from 1976 to 1984, and again from 1996 to the present. He and Carol Paul, his wife of fifty-one years, have five children, eighteen grandchildren, and one great-grandchild.
Ron Paul, the
New York Post
once wrote, is a politician who "cannot be bought by special interests."
"There are few people in public life who, through thick and thin, rain or shine, stick to their principles," added a congressional colleague. "Ron Paul is one of those few."
Praise For End The Fed…
"Rarely has a single book not only challenged, but decisively changed my mind. "
--Arlo Guthrie

"Everyone must read this book -- Congressmen and college students, Democrats and Republicans -- all Americans."
--Vince Vaughn