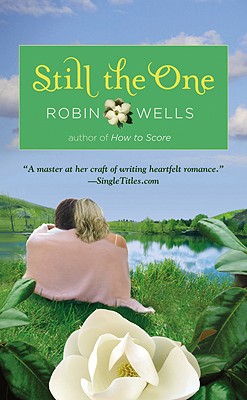 Still the One
Mass Market

* Individual store prices may vary.
Description
Robin Wells takes us back to Chartreuse, Louisiana, for a deeply moving story of forgiveness and second chances.

STILL THE ONE

After Katie Charmaine's husband is killed in Iraq, all she has left is a closet full of his clothes, a few pictures, and fond memories. She not only lost her love, but her last chance to have the children she's always wanted. Until Zack Ferguson shows up in town . . . with the daughter Katie gave up for adoption nearly seventeen years ago.

Zack Ferguson has never forgotten Katie, or the one magical night they spent together. Seeing her again brings up a tidal wave of emotions: regret over the way he left her, anger at the secret she kept, and desire he hasn't felt in years. But he's in town for Gracie. Their daughter is sixteen, angry at the world, and-worst of all-pregnant. She needs the love of her two parents now more than ever. Can these three forgive the hurts of the past and open their hearts to each other?
Praise For Still the One…
"With sympathetic, memorable characters, a touching story, gentle humor, and evocative writing, Wells's latest will please fans who like their contem­poraries with a Southern flair."—Library Journal

"Very moving, lovely story. They have their difficulties and plenty of challenges, but they also have friends and good people who are there to support them. This is a special kind of story you're sure to enjoy and love."—RomanceReviewsMag.com

"A madcap and enjoyable romantic comedy."—Publishers Weekly on HOW TO SCORE

"Still the One is beautifully crafted with endearing characters that you will not soon forget."—Jennifer Jones , theromancereadersconnection.com

"Both tenderly funny and outright hilarious, this sexy, lively romp gently touches on some serious issues but highlights romance."—Library Journal on HOW TO SCORE

"Robin Wells has written a powerful story of longing, grief and second chances in STILL THE ONE. STILL THE ONE is beautifully crafted with endearing characters that you will not soon forget."—Romance Readers Connection.com

"BETWEEN THE SHEETS has Southern heat, secondary characters who will steal your heart, and a hero and heroine who deserve their happy ending."—USAToday bestselling author Christie Ridgway on BETWEEN THE SHEETS

"How to Score is a fun, character-driven romance full of wonderful subplots and snappy personalities that all tie in perfectly at the book's conclusion. Not only do you root for the main characters but you'll become attached to the troubled spinster boss with an attitude and the inflexible landlord wanting to sell Sammi's historic home from under her."—Monroe Daily on HOW TO SCORE

"How to Score is the perfect beach book."—Monroe Daily on HOW TO SCORE

"BETWEEN THE SHEETS is romantic comedy at its best. The romances are sweet, passionate, believable, and, at times, hilarious. Southern charm infuses the setting and people of Chartreuse and adds the perfect atmosphere to the hijinks. BETWEEN THE SHEETS is a highly recommended tale that will enchant everyone."—Romance Reviews Today on BETWEEN THE SHEETS

"If you want something light and fun, Between the Sheets is the book for you. There's no way you'll be able to feel down while reading it. It's totally enjoyable, and it's guaranteed to take you away for a few blissful hours."—Nightsandweekends.com on BETWEEN THE SHEETS

"Good characterization and a sense of social awareness without preaching helps this to be a recommended read."—The Good, The Bad the Unread on BETWEEN THE SHEETS

"Rarely are the sexual exploits of the over-70 set described with such humor and heat."—Disaboom.com on BETWEEN THE SHEETS

"Between the Sheets is written with just the right amount of humor. Robin Wells puts the spotlight on several timely issues--relationships of the elderly, Alzheimer's, prostitution, and dealing with scandals. This book is a classic love story. Grams and Harold's love story was my favorite part of the book. Do not begin reading Between the Sheets until you have time to finish it; you will not be able to put it down."—Reviewyourbook.com on BETWEEN THE SHEETS

"BETWEEN THE SHEETS is a fascinating contemporary romance starring a likable lead character whose reputation is ruined yet she keeps her head up high. Although insisting that she was not the he hooker, Emma is in many ways is like Monica Wolinsky who has kept her head high and has achieved plenty of earned success since her fifteen minutes of notoriety fame. The grandparents and Max add strength to a refreshing interesting character study starring a maligned yet argent heroine who holds her head up in spite of media and public ridicule (you go Monica - you earned it)."—Harriet Klausner on BETWEEN THE SHEETS

"I absolutely loved this book! It has all the elements a reader looks for in a great story. I cried, I laughed out loud and I got butterflies. BETWEEN THE SHEETS by Robin Wells is truly a must-read."—Freshfiction.com on BETWEEN THE SHEETS

"A delightful mix of humor and love! Romantic comedy at its best!"
—New York Times bestselling author Sandra Hill on BETWEEN THE SHEETS

"Robin Wells has written a refreshing, tender love story. The grandparents crazy romance added comic relief to this compelling tale."—Contemporary Romance Writers on BETWEEN THE SHEETS

"A phenomenal love story, STILL THE ONE is a tangled web of lies, fate, and unrequited romance. With more twists and turns than the proverbial soap opera, (but a lot more fun!), this novel will keep readers glued to the pages until the end.... The dialogue is sharp and the emotion palpable... STILL THE ONE is a great read for a spring day!"—RomRevToday.com
Forever, 9780446555982, 432pp.
Publication Date: May 1, 2010
About the Author
Before becoming a full-time writer, Robin Wells was an advertising and public relations executive. Robin has won the RWA Golden Heart Award, two National Readers' Choice Awards, the Holt Medallion, and CRW's Award of Excellence.

Robin currently lives just outside of New Orleans, Louisiana with her husband and two daughters.

For more information please visit http://www.robinwells.com/
or
Not Currently Available for Direct Purchase