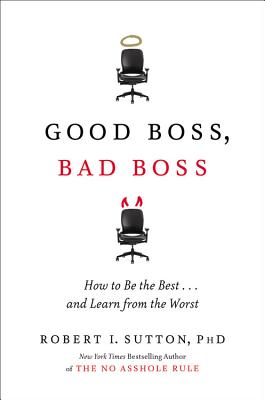 Good Boss, Bad Boss (Hardcover)
How to Be the Best... and Learn from the Worst
Business Plus, 9780446556088, 320pp.
Publication Date: September 7, 2010
Other Editions of This Title:
Digital Audiobook (9/6/2010)
Paperback (3/15/2012)
CD-Audio (9/7/2010)
Paperback (11/1/2010)
Compact Disc (3/1/2012)
Paperback (5/1/2011)
* Individual store prices may vary.
Description
Now with a new chapter that focuses on what great bosses really do. Dr. Sutton reveals new insights that he's learned since the writing of Good Boss, Bad Boss. Sutton adds revelatory thoughts about such legendary bosses as Ed Catmull, Steve Jobs, A.G. Lafley, and many more, and how you can implement their techniques.
If you are a boss who wants to do great work, what can you do about it? Good Boss, Bad Boss is devoted to answering that question. Stanford Professor Robert Sutton weaves together the best psychological and management research with compelling stories and cases to reveal the mindset and moves of the best (and worst) bosses. This book was inspired by the deluge of emails, research, phone calls, and conversations that Dr. Sutton experienced after publishing his blockbuster bestseller The No Asshole Rule. He realized that most of these stories and studies swirled around a central figure in every workplace: THE BOSS. These heart-breaking, inspiring, and sometimes funny stories taught Sutton that most bosses - and their followers - wanted a lot more than just a jerk-free workplace. They aspired to become (or work for) an all-around great boss, somebody with the skill and grit to inspire superior work, commitment, and dignity among their charges.
As Dr. Sutton digs into the nitty-gritty of what the best (and worst) bosses do, a theme runs throughout Good Boss, Bad Boss - which brings together the diverse lessons and is a hallmark of great bosses: They work doggedly to "stay in tune" with how their followers (and superiors, peers, and customers too) react to what they say and do. The best bosses are acutely aware that their success depends on having the self-awareness to control their moods and moves, to accurately interpret their impact on others, and to make adjustments on the fly that continuously spark effort, dignity, and pride among their people.


About the Author
Robert Sutton is Professor of Management Science and Engineering at the Stanford Engineering School. The No Asshole Rule was a New York Times and Wall Street Journal bestseller.
Praise For Good Boss, Bad Boss: How to Be the Best... and Learn from the Worst…
I loved this book - immediately my favorite business book. There are so many great principles and ideas to live up to, backed up by real data - it should be every boss' responsibility to read and understand it.—John Lilly, CEO of Mozilla Corporation, producer of the Firefox web browser

Good Boss, Bad Boss does a wonderful job of challenging conventional wisdom while outlining a clear and compelling rationale for thinking differently. From Sutton's useful steps for getting "in tune" with what it feels like to work for you, to evidence that eliminating the negative is more powerful than accentuating the positive, to the importance of demonstrating confidence with the admission that you're not always right. Good Boss, Bad Boss teaches the art and the science of practical leadership for the 21st century. I would consider it a must-read for anyone looking to improve their impact and accelerate their desired outcomes.—Brad Smith, CEO of Intuit

This book is the personal coach that every boss deserves: warm, smart, and freakishly good at translating scientific research into practical tips that will help keep you at the top of your game.—Chip & Dan Heath, authors of Switch: How to Change Things When Change is Hard

We are damned lucky to have Bob Sutton. While his every word is backed up by significant research, he writes in simple sentences that make enormous sense. Typical in this book, Sutton's little chart in Chapter 3, 'Smart Versus Wise Bosses,' is worth, all by itself, 100 times the price of admission. Good Boss, Bad Boss is as good as it gets.—Tom Peters, author of The Little Big Things and co-author of In Search of Excellence

It has been damn near impossible to find consistently good and objective
insight and analysis from business thought leaders. But Robert I. Sutton, a
professor of Management Science and Engineering at Stanford and the Stanford
Institute of Design (where we have overlapped), is an exception. His new book,
out now, is his best to date. Good Boss, Bad Boss is food for
thought for managers and leaders in organizations large and small. It is packed
with insight, lists of "how to" suggestions, and questions for bosses to ask
themselves.—Reuters
or
Not Currently Available for Direct Purchase