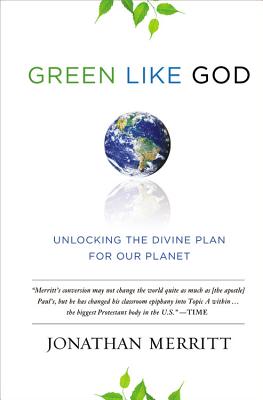 Green Like God (Hardcover)
Unlocking the Divine Plan for Our Planet
FaithWords, 9780446557252, 208pp.
Publication Date: April 1, 2010
Other Editions of This Title:
Digital Audiobook (4/5/2010)
CD-Audio (4/6/2010)
CD-Audio (9/1/2010)
* Individual store prices may vary.
Description
In GREEN LIKE GOD, Jonathan Merritt gently and insightfully observes that the bible has a lot to say about environmental problems like unclean water, material waste, over consumption, air pollution, and global warming. In fact, Jonathan writes that "in the book of Genesis, God went green and never looked back." Relying heavily on scripture, Jonathan gives the case for green living, but not because it's trendy and hip. Rather, it's part of living rightly as a believer. It's an act of obedience to our Creator-God.

GREEN LIKE GOD is at once practical, prescriptive, and conversational in tone. The author looks at a number of trends with tips to help the reader wade into the world of creation care living. An appendix includes suggestions of things we can do. In addition, the book includes interviews with everyday Christians to tell the story of the journey to environmental stewardship among people of faith.

This is the book that Christians are longing for and need today. Written for a new generation of Christians who are struggling with how to deal with the important issue of creation-care and green living, GREEN LIKE GOD is both highly relevant and theologically sound. It will have a profound impact on how Christians live and interact with the world today.
About the Author
Jonathan Merritt is a faith and culture writer whose work appears regularly in national publications such as "USA Today," the" Atlanta Journal-Constitution," and "Relevant" magazine. As a powerful Christian voice, he has appeared on "ABC World News," "NPR, "and PBS's" Religion and Ethics Newsweekly." Merritt holds a master of divinity degree from Southeastern Baptist Theological Seminary in Wake Forest, NC, and currently lives outside Atlanta, GA. You can find out more about Jonathan at www.jonathanmerritt.com.
Praise For Green Like God: Unlocking the Divine Plan for Our Planet…
"Green Like God is a well written, entertaining, and biblically faithful study of our great Creator and his marvelous Creation. It will challenge and convict you. This is what a good book should do."

"Jonathan Merritt's GREEN LIKE GOD reintroduces us to a Savior who has eternal love for all of creation. Presenting biblical arguments, personal experiences, and hope for a restored earth, Merritt establishes himself as a prophetic voice for his generation and the entire Church. This book aligns with a growing creation care movement that continues to turn heads and win hearts to Christ."

"For too many years the concerns of the environment have fallen to the wayside among God's people. This timely book is a wake-up call to conservatives and liberals that caring for the planet is all of our responsibilities. May your own heart grow a size bigger and a shade greener as you read its pages."

"Merritt's conversion may not change the world quite as much as Paul's, but he has transformed his classroom epiphany into topic A within...the biggest Protestant body in the U.S."
-TIME Magazine

"[Jonathan's work] is very significant, courageous, groundbreaking...it's cracking the wall of silence on this issue and for that I applaud [him]."

"In this debut book, Jonathan Merritt brings together biblical integrity, Christian humility, and social sensitivity in a call to care for everything and everyone that God loves. Love God, cherish his world."

"Jonathan Merritt's book, GREEN LIKE GOD, is thoughtful, challenging, and engaging. And most importantly it is thoroughly Bible-based. It clearly lays out the sin of despoiling God's good creation and points Christians to a better, God-obeying way. If its message is taken to heart by American Christians, much will be done to save God's creation. And in the process Christians' witness to the world will be strengthened."

"Jonathan Merritt is a bold and persuasive spokesperson for our Millennial generation. In GREEN LIKE GOD, he shows that creation care was a central part of God's plan from the very beginning, and remains a priority for all of us today. Read this book and fall in love with the God who gives life and is making all things new."

"In my head, Jonathan Merritt will forever be a hybrid. With one foot on truths that are eons old and the other leaning into the future, he offers a combination of perspectives that is challenging, inspiring, and difficult to resist."

"At a time when many faithful Jesus followers are rediscovering their calling to work for the common good, comes Jonathan Merritt, who with humility and humor reminds us that loving people and loving God includes caring for creation. A commitment to understand the plain meaning of the Bible and an ability to integrate the Christian imperatives of evangelism, discipleship, scholarship, and compassion make Jonathan one of the most significant voices of a new generation."

"By God's providential grace, Jonathan Merritt has become the voice of under-35 evangelical environmentalism. This wonderful book gives us glimpses into his personal journey into creation care as well as thoughtful theological and practical reflections on this critically important subject. I strongly recommend this richly biblical and devotional introduction to caring for God's creation. May it have a huge impact immediately on both the churches and the culture."

"Jonathan Merritt has blown away political camps with good theology. He shows us the clear biblical evidence of a God who has a green thumb, a Creator who begins the human story by breathing life into dirt and ends the story with the restoration of all Creation as the New Jerusalem comes on earth. Here is a humble and clear call on all people to respond to the degradation of the earth, especially those of us who dare to call ourselves Christians."

"Jonathan Merritt, already one of the leading voices on creation care in our nation, has written this wonderfully readable and personally engaging book. His explanation of biblical perspectives, his compelling personal story, and his practical action points all add up to a vital resource for any Christian sensing a moral responsibility to be a part of God's environmental solution. You've got to read this book!"

"Jonathan Merritt provides a helpful resource for Christians concenred about creation. Seeking to be both Biblically faithful and culturally aware, GREEN LIKE GOD helps Christians navigate the often tumultuous and controversial waters. I recommend this book to pastors and leaders who desire to care more deeply about the creator and His creation."
or
Not Currently Available for Direct Purchase