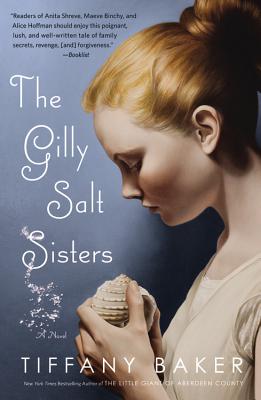 The Gilly Salt Sisters
A Novel
Paperback

* Individual store prices may vary.
Other Editions of This Title:
Digital Audiobook (3/13/2012)
Hardcover (3/14/2012)
Compact Disc (3/14/2012)
Hardcover, Large Print (4/6/2012)
Compact Disc (5/15/2012)
Description
The author of the New York Times bestselling The Little Giant of Aberdeen County returns with a magic-tinged tale of dreams, family secrets, and betrayals on a New England salt farm.

In the isolated Cape Cod village of Prospect, the Gilly sisters are as different as can be. Jo, a fierce and quiet loner, is devoted to the mysteries of her family's salt farm, while Claire is popular, pretty, and yearns to flee the salt at any cost. But the Gilly land hides a dark legacy that proves impossible to escape. Although the community half-suspects the Gilly sisters might be witches, it doesn't stop Whit Turner, the town's wealthiest bachelor, from forcing his way into their lives. It's Jo who first steals Whit's heart, but it is Claire--heartbroken over her high school sweetheart--who marries him.

Years later, estranged from her family, Claire finds herself thrust back onto the farm with the last person she would have chosen: her husband's pregnant mistress. Suddenly, alliances change, old loves return, and new battle lines are drawn. What the Gilly sisters learn about each other, the land around them, and the power of the salt, will not only change each of their lives forever, it will also alter Gilly history for good.
Praise For The Gilly Salt Sisters: A Novel…
Praise for The Gilly Salt Sisters:

"Fans of Baker's acclaimed The Little Giant of Aberdeen County won't be disappointed with this quirky, complex, and original tale. It is also sure to enchant readers who enjoy Alice Hoffman and other authors of magical realism."—Nancy Fontaine, Library Journal

"A heartfelt tale of family relationships, small-town drama, and new opportunities.... Loyal readers of Anita Shreve, Maeve Binchy, and Alice Hoffman should enjoy this poignant, lush, and well-written tale of family secrets, revenge, forgiveness, and connections not easily severed."—Stephanie Turza, Booklist

"An enchanting and engaging story."—Janet Siciliano, BookReporter.com

"Tiffany Baker's novel has grit and polish and some salt of its own. It's a beautifully written tale about the resourceful and determined connection of women. The Gilly Salt sistersare a brackish bunch--definitely my kind of people."—Brunonia Barry, author of The Lace Reader and The Map of True Places

"Tiffany Baker has done it again: The Gilly Salt Sisters is both deliciously, magically, strange and heartrendingly familiar, a beautiful and bewitching story of the elements that bind us to each other--family, love, loss, and memory. I was pulled into its world on the very first page and wanted to stay forever."—Eleanor Brown, author of The Weird Sisters

"Like a delicious meal, Tiffany Baker offers up a wonderful blend of devastating family secrets, loves lost and found, revenge, forgiveness, and more than a pinch of long-held family magic."—Kathleen Kent, author of The Heretic's Daughter and The Wolves of Andover

"The Gilly Salt Sisters captivates from its opening paragraph-a story of rivalry, love, and unredeemable greed set against a Cape Cod salt marsh that demands hard work and gives luck (good and bad) in return. Baker's scenes and characters are rich and compelling, touched with a magical realism which, like salt, enhances their flavor. Fans of Alice Hoffman will rejoice at finding Tiffany Baker."—Erica Bauermeister, author of The School of Essential Ingredients
Grand Central Publishing, 9780446557290, 400pp.
Publication Date: March 5, 2013
About the Author
Tiffany Baker is the author of The Gilly Salt Sisters and The Little Giant of Aberdeen County, which was a New York Times and San Francisco Chronicle bestseller. She holds an MFA (creative writing) and a PhD (Victorian Literature) from UC Irvine, and lives in the San Francisco Bay Area with her husband and three children.