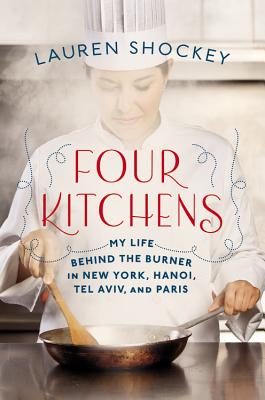 Four Kitchens (Hardcover)
My Life Behind the Burner in New York, Hanoi, Tel Aviv, and Paris
Grand Central Publishing, 9780446559874, 352pp.
Publication Date: July 27, 2011
Other Editions of This Title:
Paperback (8/1/2012)
* Individual store prices may vary.
Description
At the French Culinary Institute, Lauren Shockey learned to salt food properly, cook fearlessly over high heat, and knock back beers like a pro. But she also discovered that her real culinary education wouldn't begin until she actually worked in a restaurant. After a somewhat disappointing apprenticeship in the French provinces, Shockey hatched a plan for her dream year: to apprentice in four high-end restaurants around the world. She started in her hometown of New York City under the famed chef Wylie Dufresne at the molecular gastronomy hotspot wd-50, then traveled to Vietnam, Israel, and back to France. From the ribald kitchen humor to fiery-tempered workers to tasks ranging from the mundane (mincing cases of shallots) to the extraordinary (cooking seafood on the line), Shockey shows us what really happens behind the scenes in haute cuisine, and includes original recipes integrating the techniques and flavors she learned along the way. With the dramatic backdrop of restaurant life, readers will be delighted by the adventures of a bright and restless young woman looking for her place in the world.
About the Author
Lauren Shockey is a food writer whose articles have appeared in many print and online publications including the Village Voice, the New York Times, the Wall Street Journal, Slate, and the Atlantic Food Channel, among many others. A graduate of The University of Chicago, Lauren also holds a diploma in classic culinary arts from The French Culinary Institute and a Master of Arts in food studies from New York University.
Praise For Four Kitchens: My Life Behind the Burner in New York, Hanoi, Tel Aviv, and Paris…
"Something hot to read this summer."—
The Providence Journal
"This interesting blend of history, culture, cooking, and travel is highly recommended for any lover of literary travel writing. Those who enjoy cooking will learn through her experiences and be inspired to try Shockey's kitchen-friendly recipes featuring the spices and flavors she discovers along the way."—
Jane Hebert, Orange Cty. Lib. Syst., Orlando, FL
,
Library Journal
"A charmer, an honest and good-humoured behind-the-scenes look at life in the kitchen, very much in the vein of Bill Buford's
Heat
or Anthony Bourdain's
Kitchen Confidential."
—
The Globe and Mail
"Rich descriptions of coworkers and locales accompany her main theme of struggle and growth, and recipes inspired by items on the menus of the restaurants she worked further enhance it. . . . Just as her talent and skill earned Shockey respect in the kitchens in which she worked, her unique memoir will garner her favor from the world of food writing."—
Booklist
"An American woman's transcultural education and discovery that an unpaid culinary apprenticeship is 'not just a culinary experience' but 'a human experience' . . . reveals the pride and frustration of learning and mastering innovative as well as classical approaches. In her travels-which included enduring hierarchical, occasionally sexist commentary in New York and Paris, sampling challenging (to her Western palate) fare in Hanoi, or rediscovering casual dining in Tel Aviv-veteran foodies and
Top Chef
fans will recognize the tedious prepwork and the burden of performing over long hours . . . She provides convincing evidence that immersion can be the fastest, most effective route to learning. As she remarks at several points, culinary school did not prepare her for what she encountered. Realizing that few chefs actually spend time behind the burner and that the role is often managerial created disappointment, but led to the rewarding affirmation that home-cooking is a passionate, inspiring, valid outlet. Each section includes recipes, many of which translate to the average kitchen.
Cooking for clientele and friends alike, Shockey highlights the importance of hands-on, communal involvement-food as nourishment with 'soul' rather than high artistry."—
Kirkus Reviews
"With
Four Kitchens,
Lauren Shockey immediately establishes herself as an adventurer and raconteur-and as one of the most appealing food writers of her generation."—
Amanda Hesser, co-founder of food52.com and author of The Essential New York Times Cookbook
"Four kitchens, four countries and four delicious adventures from a young cook with moxie. So many food lovers have dreamed of cooking their way around the world, Lauren actually did it! Luckily for readers, along with her knives, she traveled with a sense of humor and an ear for a good story."—
Dorie Greenspan, author of Around My French Table
"Aspiring cooks will love following Lauren's trials and tribulations as she immerses herself in each kitchen's microcosm, and shares the lessons she learns."—
Clotilde Dusoulier, author of Clotilde's Edible Adventures in Paris and founder of Chocolate and Zucchini
"
Kitchen Confidential
meets
Eat, Pray, Love;
Shockey's book is full of heart and humor and is essential reading for anyone who plans to work in a restaurant kitchen."—
Adam Roberts, creator of The Amateur Gourmet
"An insider's ode to all the sweat, blood and tears that goes into the finest meals of the world, told with reverence, affection and honesty. Lauren Shockey is a fearless chef without borders, and her appetite is infectious."—
Cathy Erway, author of The Art of Eating In
"Kitchen memoirs are common enough, but how many are composed by actual writers?
Four Kitchens
by Lauren Shockey is one of them, well enough written that it can stand next to Bourdain's
Kitchen Confidential
. The prose is smooth and free-flowing, exciting enough that you'll race to the end of each section. What's more, like any good travelogue, we learn more about these places than we would from a guidebook-and pick up a wealth of cooking tips along the way, along with valuable insights into why chefs go through what they do to become chefs."—
Robert Sietsema, author of The Food Lover's Guide to the Best Ethnic Eating in New York City
"What makes the book come alive are the stories. Shockey clearly understands what it takes to get along with the varied and often ego driven personalities. . . The four kitchen adventures are challenging and Shockey makes the most of each one. The smells and rhythms of the countries permeate her writing, as does her appreciation of what she is learning."—
Jewish Book World
or
Not Currently Available for Direct Purchase