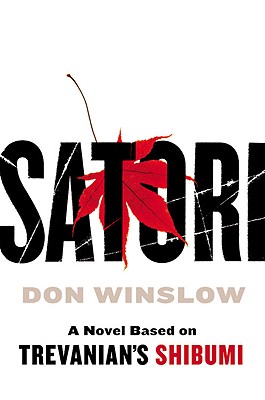 Satori
Hardcover

* Individual store prices may vary.
Other Editions of This Title:
Digital Audiobook (3/6/2011)
Paperback (3/30/2012)
CD-Audio (3/30/2012)
Hardcover, Large Print (3/7/2011)
Paperback, French (10/1/2012)
Compact Disc (3/1/2011)
Paperback (9/1/2011)
Paperback, Spanish (3/1/2012)
Hardcover (4/1/2011)
Compact Disc (3/1/2011)
Description
Prepare to meet the world's most dangerous man . . .

Nicholai Hel-genius, mystic, and the perfect, formidable assassin-was first introduced to readers in Shibumi, the classic #1 bestseller by master storyteller Trevanian. Now critically acclaimed author Don Winslow continues Hel's story for the first time in this all-new, blockbuster thriller.

SATORI

It is the fall of 1951, and the Korean War is raging. Twenty-six-year-old Nicholai Hel has spent the last three years in solitary confinement at the hands of the Americans. Hel is a master of hoda korosu, or "naked kill," is fluent in seven languages, and has honed extraordinary "proximity sense"-an extra-awareness of the presence of danger. He has the skills to be the world's most fearsome assassin and now the CIA needs him.

The Americans offer Hel freedom, money, and a neutral passport in exchange for one small service: to go to Beijing and kill the Soviet Union's commissioner to China. It's almost certainly a suicide mission, but Hel accepts. Now he must survive chaos, violence, suspicion, and betrayal while trying to achieve his ultimate goal of satori-the possibility of true understanding and harmony with the world.
Praise For Satori…
"Satori is first-rate spy fiction, full of explosive action, exotic locales, and surprising romance, and Nicholai Hel is an assassin you'll cheer for: intent on vengeance for a terrible injustice, as comfortable with philosophy as he is familiar with the mechanics of stopping a man's heart, beset by enemies in a game whose true nature he can only divine by playing through to the end."
-Barry Eisler

"It is hard to improve on a classic novel, but Winslow has done the creator of Shibumi and the Nicholai Hel character proud. Elegant writing, a mature, confident narrative and characters so real you can almost touch them on the page abound in this novel. The carefully choreographed, bare-knuckled action will satisfy even the most discriminating action reader. A home run that should deliver continents of new fans to Winslow's door."
-David Baldacci

"In his 1979 international best-seller, Shibumi, acclaimed author Trevanian introduced readers to handsome mystic and ingenious assassin Nicholai Hel. In this compelling prequel, Winslow, whose popular novels include Savages (2010) and The Dawn Patrol (2008), details Hel's life leading up to Trevanian's opus. Satori opens in the fall of 1951, in the throes of the Korean War. Twenty-six-year-old Hel has spent the last three years in solitary confinement at the hands of the Americans. Now his captors are offering to release him-at a price. He must go to Beijing and kill the Soviet Union's commissioner to China. Though Hel is blond with striking green eyes, his worldview is more Eastern than Western. (He was raised by an aristocratic Russian mother in Shanghai and later lived in Japan, where he studied the ancient and notoriously challenging board game, Go.) Hel is a master of hoda korosu, "the naked kill," and blessed with an uncanny proximity sense, which makes him hyperaware of potential danger. He'll need every tool in his deadly dossier to earn freedom. Winslow renders breathless suspense and a cast of dark, devious characters from all corners of the globe. Recommend this one to fans of Baldacci and le Carré, as well as, of course, Trevanian."
-Booklist (starred review)

An intricately plotted, fast-paced thrill ride. Carrying on the legacy of Trevanian's SHIBUMI, Don Winslow skillfully brings the character of master assassin Nicholai Hel to life, creating a story so engrossing you won't be able to put it down. Winslow has truly done the Trevanian legacy proud.
-Nelson DeMille

"A grand, sprawling, magnificent entertainment. Trevanian, in the skilled hands of Don Winslow, is alive and well, and dare I say, better than ever! For those of us who look back on Shibumi as a highlight of their reading lives, Satori does not for a moment disappoint. Those who have not read Shibumi are in for a treat. My immediate question upon turning the last page was "when is the next one coming out?" I cannot wait!"
-Christopher Reich

"Trevanian's Shibumi was one of the all-time great thrillers. Don Winslow is one of the best thriller writers we have. Put the two together and the result, no surprise, is sleek, smart, and deadly. SATORI is a must-read."
-Joseph Finder, New York Times bestselling author of Paranoia and Vanished
Grand Central Publishing, 9780446561921, 512pp.
Publication Date: March 1, 2011
About the Author
DON WINSLOW was born in New York City but raised in South Kingstown, Rhode Island. His books include The Power of the Dog and The Life and Death of Bobby Z. In addition to his writing, Don has been an actor, director, movie theater manager, safari guide and private investigator. Don lives in the San Diego area with his wife, Jean, and son, Thomas. He invites you to visit him at his website www.donwinslow.com.

TREVANIAN's books have been translated into more than fourteen languages and have sold million of copies worldwide. In addition to Shibumi, Trevanian is the author of seven novels including The Eiger Sanction and The Loo Sanction.
Book Videos
or
Not Currently Available for Direct Purchase