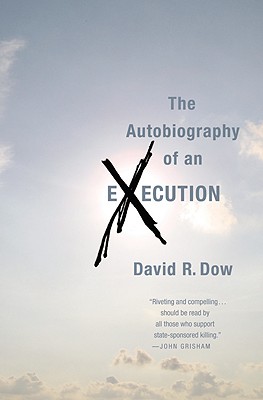 The Autobiography of an Execution
Paperback

* Individual store prices may vary.
Description
A riveting, artfully written memoir of a lawyer's life as he races to prevent death row inmates from being executed.
Near the beginning of The Autobiography of an Execution, David Dow lays his cards on the table. "People think that because I am against the death penalty and don't think people should be executed, that I forgive those people for what they did. Well, it isn't my place to forgive people, and if it were, I probably wouldn't. I'm a judgmental and not very forgiving guy. Just ask my wife."

It this spellbinding true crime narrative, Dow takes us inside of prisons, inside the complicated minds of judges, inside execution-administration chambers, into the lives of death row inmates (some shown to be innocent, others not) and even into his own home--where the toll of working on these gnarled and difficult cases is perhaps inevitably paid. He sheds insight onto unexpected phenomena-- how even religious lawyer and justices can evince deep rooted support for putting criminals to death-- and makes palpable the suspense that clings to every word and action when human lives hang in the balance.
Praise For The Autobiography of an Execution…
"For a lot of good reasons, and some that are not so good, executions in the U.S. are carried out in private. The voters, the vast majority of whom support executions, are not allowed to see them. The Autobiography of an Execution is a riveting and compelling account of a Texas execution written and narrated by a lawyer in the thick of the last minute chaos. It should be read by all those who support state sponsored killing."

—John Grisham, author of The Innocent Man

"David Dow's extraordinary memoir lifts the veil on the real world of representing defendants on death row. It will stay with me a long time."

—Jeffrey Toobin, author of The Nine

"I have read much about capital punishment, but David Dow's book leaves all else behind."—Anthony Lewis

"In an argument against capital punishment, Dow's capable memoir partially gathers its steam from the emotional toll on all parties involved, especially the overworked legal aid lawyers and their desperate clients. The author, the litigation director of the Texas Defender Service and a professor at the University of Houston Law Center, respects the notion of attorney-client privilege in this handful of real-life legal outcomes, some of them quite tragic, while acknowledging executions are 'not about the attorneys,' but 'about the victims of murder and sometimes their killers.' While trying to maintain a proper balance in his marriage to Katya, a fellow attorney and ballroom dancer, he spells out the maze of legal mumbo-jumbo to get his clients stays or released from confinement in the cases of a hapless Vietnam vet who shot a child, another man who beat his pregnant wife to death and another who killed his wife and children. In the end, Dow's book is a sobering, gripping and candid look into the death penalty."

—Publishers Weekly

"Defending the innocent is easy. David Dow fights for the questionable. He is tormented, but relentless, and takes us inside his struggle with candor and insight, shudders and all."

—Dave Cullen, author of Columbine
Twelve, 9780446562072, 288pp.
Publication Date: February 16, 2011
About the Author
David R. Dow is professor of law at the University of Houston Law Center and an internationally recognized figure in the fight against the death penalty. Nominated for a National Book Critics Circle Award for The Autobiography of an Execution, he is also the founder and director of the Texas Innocence Network and has represented more than one hundred death row inmates in their state and federal appeals. He lives in Houston, Texas.
Coverage from NPR