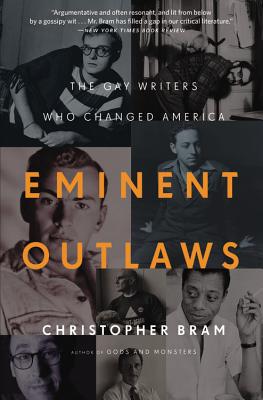 Eminent Outlaws: The Gay Writers Who Changed America (Paperback)
The Gay Writers Who Changed America
Twelve, 9780446563123, 320pp.
Publication Date: February 5, 2013
* Individual store prices may vary.
or
Not Currently Available for Direct Purchase
Description
In the years following World War II, a small group of gay writers established themselves as literary power players, fueling cultural changes that would resonate for decades to come, and transforming the American literary landscape forever.

In EMINENT OUTLAWS, novelist Christopher Bram brilliantly chronicles the rise of gay consciousness in American writing. Beginning with a first wave of major gay literary figures-Tennessee Williams, Gore Vidal, Truman Capote, Allen Ginsberg, and James Baldwin-he shows how (despite criticism and occasional setbacks) these pioneers set the stage for new generations of gay writers to build on what they had begun: Armistead Maupin, Edmund White, Tony Kushner, and Edward Albee among them.

Weaving together the crosscurrents, feuds, and subversive energies that provoked these writers to greatness, EMINENT OUTLAWS is a rich and essential work. With keen insights, it takes readers through fifty years of momentous change: from a time when being a homosexual was a crime in forty-nine states and into an age of same-sex marriage and the end of Don't Ask, Don't Tell.
About the Author
Christopher Bram is the author of nine novels, including "Gods and Monsters" (originally titled "Father of Frankenstein"), which was made into an Academy Award-winning film. Bram was a 2001 Guggenheim Fellow and received the 2003 Bill Whitehead Award for Lifetime Achievement. He lives in New York City.
Praise For Eminent Outlaws: The Gay Writers Who Changed America…
"Eminent Outlaws is a spectacular overview of our gay literary history."
-Instinct Magazine

"Bram does a terrific job in cataloguing the lives of these important figures, from Vidal to James Baldwin to Michael Cunningham. He reveals their often tortured interior lives. His examinations of the works themselves are original and thoughtful. Eminent Outlaws is entertaining and informative, packed with interesting gossip and opinions."
-Columbia Journalism Review

"As Bram's high-sounding subtitle promises-and these lives from Vidal through Baldwin and O'Hara to White and Kushner deliver-gay lib began as a literary movement; the aesthetic was always political, too.... 'Eminent Outlaws' is the next (last?) step in reporting on literary lives that traces back to the gay dinner parties of yore. Few would have it any other way."
-Newsweek

"Argumentative and often resonant, and lit from below by a gossipy wit. But its power is less sentence by sentence than cumulative. You don't realize how much the details of these writers' books and difficult lives have touched you until the book's final chapters.... With 'Eminent Outlaws' he has filled a gap in our critical literature."
-The New York Times

"Bram's portraits of an often-reluctant gay literary vanguard is fascinating enough, but alongside a 50-year narrative of unexplored gay aesthetic, he also provides a parallel history of the gay-rights movement....Bram's bio-history is fun to read and will be the standard text of the defining era of gay literati glitterati."
-Philadelphia Inquirer

"Bram uses a series of complex portraits of America's most influential gay literary lions to argue for their position in the pantheon of American culture.... Eminent Outlaws offers a crucial and fascinating overview of decades of American literary history."
-Salon.com

"With keen insight into the essential relationship between storytelling and gay identity-as well as careful research into the journals, letters and books of America's great gay writers-Outlaws traces the cultural influence of gay literature throughout the second half of the 20th century.... Perhaps we have Bram's early sense of service as a boy scout to thank for the work he's done to preserve history in Outlaws. That Bram pulls it off with such style seems appropriate: it's a gay history, after all."
-Next Magazine
Advertisement