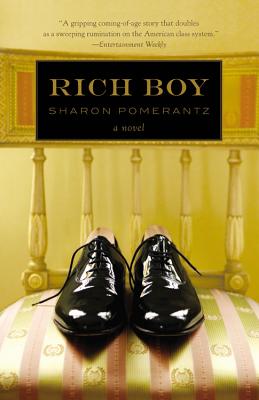 Rich Boy
Paperback

* Individual store prices may vary.
Description
Robert Vishniak is the favored son of Oxford Circle, a working-class Jewish neighborhood in 1970s Philadelphia. Handsome and clever, Robert glides into the cloistered universities of New England, where scions of unimaginable wealth and influence stand shoulder to shoulder with scholarship paupers like himself who wash dishes for book money. The doors that open there lead Robert to the highest circles of Manhattan society during the heart of the Reagan boom where everything Robert has learned about women, through seduction and heartbreak, pays off. For a brief moment, he has it all-but the world in which he finds himself is not the world from which he comes, and a chance encounter with a beautiful girl from the old neighborhood-and the forgotten life she reawakens-threatens to unravel his carefully constructed new identity.
Praise For Rich Boy…
"This debut novel does something quite rare. It manages to be both detailed and general-- to tell a single story and make of it a parable, to chart the rise and fall of a representative figure in 'the American century.' Sharon Pomerantz reminds us of a truth that fiction can embody: however bright the flame or dark the burn-out, however commercial the marriage or spectacular the fraud, there are human beings at risk. Her character of Robert Vishniak is the poor Rich Boy writ large."—Nicholas Delbanco, author of What Remains and The Vagabonds

"Very rarely, a writer comes along who understands the very rich, and those who are determined to become very rich. Think Fitzgerald and Gatsby, Bellow and Augie March, Wolfe and Bonfire of the Vanities. And now here comes Sharon Pomerantz, bringing to life in an utterly compelling and convincing way Manhattan in the 1970s and 1980s, with all its avarice, ambition, snobbery, love, lust, and self-delusion. If you want to understand what made Bernie Madoff possible, I can think of no more serious, sensitive, and intelligent novel to read than Rich Boy."—Eileen Pollack author of In the Mouth, The Rabbi in the Attic, and Paradise, New York

"At once a panoramic portrayal of American life from the 60s to the 80s and an intimate study of one restless dreamer of the American dream, Rich Boy offers us a vivid examination of class - the sharp and subtle distinctions between both rich and poor, and rich and wealthy. Pomerantz's book is a noteworthy addition to that long and distinguished line of American fiction about money stretching from The Great Gatsby to The Bonfire of the Vanities."—Peter Ho Davies, author of The Welsh Girl

"Compelling, finely crafted...Pomerantz's sweeping tale captures the intimate truths and hypocrisies of class, identity, and one man's quintessential American experience."—Booklist (starred review)

"Reading RICH BOY, I remember how much I loved Marjorie Morningstar... The same thing is happening here with Robert Vishniak, who spends his life trying to escape a past that he is not proud of as he infiltrates the most elite social circles. It takes place over four decades, and the story is rich and full of detail. Pomerantz worked on it for 10 years, and her attention to the craft is evident."—BookReporter
Twelve, 9780446563192, 528pp.
Publication Date: July 13, 2011
About the Author
Sharon Pomerantz is a graduate of the University of Michigan's M.F.A. program. Her short fiction has appeared in numerous journals, including The Missouri Review and Ploughshares. Her story "Ghost Knife" was included in The Best American Short Stories 2003, and "Shoes" was nationally broadcast on NPR's Selected Shorts. She currently teaches writing at the University of Michigan. Rich Boy is her first novel.
or
Not Currently Available for Direct Purchase