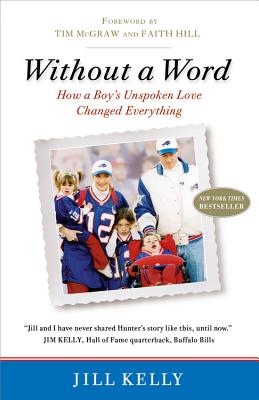 Without a Word
How a Boy's Unspoken Love Changed Everything
Paperback

* Individual store prices may vary.
Other Editions of This Title:
Digital Audiobook (9/8/2010)
CD-Audio (9/9/2010)
CD-Audio (9/9/2010)
Description
WITHOUT A WORD is a riveting memoir that blends remarkable achievement with passion, sacrifice, love, pain, and human interest. It takes the reader into the lives of a celebrity couple, Pro Football Hall of Famer Jim Kelly, and his wife, Jill, to reveal the Kelly family's private struggle and how seven years with their severely disabled, terminally ill son, Hunter, unfolded in a redemptive and transforming manner. The light of Hunter's love through his brief and silent life shone into the shadowed corners of Jill and Jim's lives resulting in Jill believing that Jesus Christ was authentic, her learning to forgive Jim of past indiscretions, and finally resulting in Jim's seeking and finding God. Lessons gleaned from Hunter's life and death, and Jim and Jill's struggle to save their marriage during tumultuous times, make this a compelling and inspiring read.
Praise For Without a Word: How a Boy's Unspoken Love Changed Everything…
"We know through our own experience of having a son with Autism that challenges also present many blessings. We admire the fact that Jim and Jill have been willing to share both their struggles and successes with the world. This story is a tribute to Hunter James Kelly. Hunter's short life transformed the Kelly family, and through the work of Hunter's Hope, the foundation that bears his name, his life will touch countless other families. Reading this book was like watching a miracle unfold."—Dan and Claire Marino

"Jim and Jill Kelly were always headed toward greatness. Who knew that a Hall of Fame career with the Buffalo Bills would be dwarfed by their son, Hunter? This is a story that refuses to detail a sadness that would seem only natural. Instead, it is an uplifting tale of courage, hope, and love. We are proud to call the Kelly family our friends. You will, too!"—Chris and Katherine Berman

"The story of the Kelly family is painful, but it is not a story of pain. It's a story of redemption, grace, reconciliation, and the powerful activity of the work-all-things-for-good God. I found myself left without a word as I read it--humbled by the courage of Hunter, the love of his sisters, and the indescribable way that God demonstrated His love to Jim and Jill. Their story has served to enflame my faith, and it will yours as well."—Dr. Jerry Gillis, lead pastor, the Chapel at CrossPoint, Buffalo, NY

"I was emotionally drained but inspired when I read Jill's book. God's timing was perfect. This wonderful book helped me to see my own 'trials' in a completely different light."—Denise Jackson, author of the #1 New York Times bestseller, IT'S ALL ABOUT HIM
FaithWords, 9780446563383, 272pp.
Publication Date: September 19, 2011
About the Author
Jill Kelly is the wife of former Buffalo Bills quarterback Jim Kelly. In September 1997, three months after their infant son, Hunter, was diagnosed with a fatal disease called Krabbe Leukodystrophy, Jim and Jill founded the Hunter's Hope Foundation. As chairman of the board of Hunter's Hope, Jill helps children suffering from Leukodystrophy and their families by raising awareness and research funds to fight this devastating disease. She and Jim live in Buffalo, NY, with their two daughters and three dogs. Hunter's Hope Foundation can be found online at http://www.huntershope.org. Half of all royalties will go to the Hunter's Hope Foundation. Jill, along with her two daughters, is also the author of an upcoming FaithWords book, Hot Chocolate with God.
or
Not Currently Available for Direct Purchase